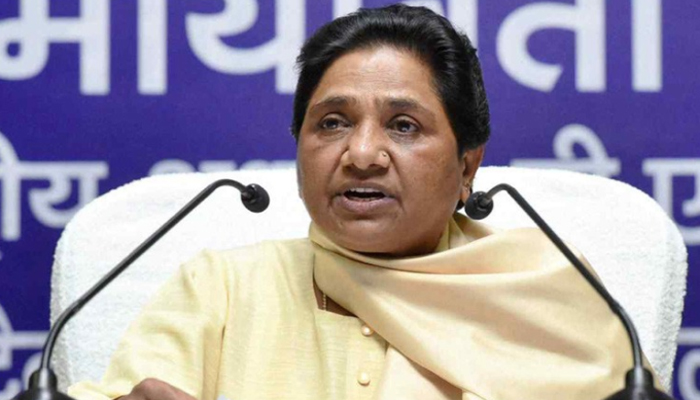 Mayawati (SOCIAL MEDIA)
Lucknow: Bahujan Samaj Party national president Mayawati has surrounded the Yogi government in Uttar Pradesh on the murderous attacks on the priest on Sunday in Gonda. She said that what could be worse is the law and order situation in the saint's government.
Even the saint is not safe, it is very embarrassing. The BSP supremo has demanded strict action against the culprits from the UP government and confiscation of the property of the land owners.
Mayawati tweets on Murder of Priest:
BSP supremo Mayawati tweeted on Monday morning saying that in like Rajasthan's in UP's Gonda district, a murderous attack on the temple priests by land mafia with the intention of occupying the land of the temple is ultra-shameful. Now the saint is also in the government not safe. What could be worse law and order situation.
1. राजस्थान की तरह यूपी के गोण्डा जिले में मन्दिर के पुजारी पर भू-माफियाओं द्वारा मन्दिर की जमीन पर कब्जा करने के इरादे से किया गया जानलेवा हमला अति-शर्मनाक अर्थात् सन्त की सरकार में अब सन्त भी सुरक्षित नहीं। इससे खराब कानून-व्यवस्था की स्थिति और क्या हो सकती है? 1/2

— Mayawati (@Mayawati) October 12, 2020
In another tweet, Mayawati said that the UP government should take strict cognizance of all aspects in this case. Also take strict legal action against the culprits and the property of all the land mafias associated with this incident must also be confiscated. Besides, security of saints and saints should also be increased.
Priest killed in Gonda, UP:
Sitaram Das, a priest of Sriram Janaki temple located in Etiathok police station area of ​​Gonda killed. He has been in dispute over a land for a long time. Priest Sitaram Das has been attacked in this dispute going on for years. Late Saturday night, these miscreants shot Baba Samrat Das, another priest of the temple, who lived with Sitaram Das. After which the priest Samrat Das was admitted to the district hospital where after primary treatment he was referred to the Trauma Center in Lucknow.
Priest Sitaram Das has filed an FIR against 04 people. Of which 02 are being questioned in police custody while the search for two others is going on.
Stay tuned with the newstrack to get fastest updates. Click @englishnewstrack to follow us on Facebook and @newstrackmedia to follow on twitter.
Keep yourself updated with latest news through Newstrack App. To download App from Google Playstore visit here - Newstrack App