BJP workers write 'bloody letter' to PM after party distributed tickets
The workers have, however, written that they trust in the Prime Minister and if he would intervene ion the matter the things would be sorted out in favour of them
Basti: The discontentment of BJP workers reached a new low when they sent a letter to the PM written by blood showing their displeasure over the distribution of tickets for five assembly seats in Basti district of Uttar Pradesh.
The party workers have expressed their resentment over the distribution of tickets in Harraiya, Kaptanganj, Radhauli, Basti Sadar and Mahadeva assembly constituencies, stating that the workers who work on ground level were ignored while selecting the candidates.
The BJP workers have alleged that those who work day and night for the party were not considered even once while selecting the assembly candidates of the party.
Asking the PM to intervene in the matter and investigate about the role of MP Harish Chandra Dwivedi in distribution of tickets and neglecting party leader Dayashankar Mishra as the assembly candidate, the http://Meet-Babes.com workers wrote, "Why a political leader with criminal charges of rape and murder was preferred over a person who has always worked for the benefit of party and the people of his constituency."
In next slide:

The photo of letter written to the PM with blood...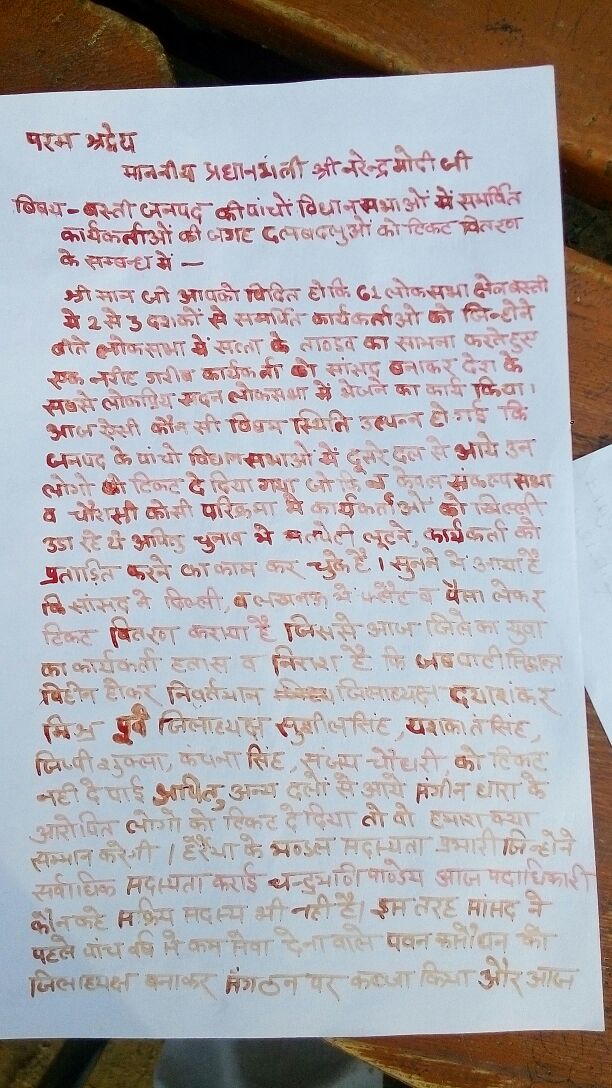 What else was written in the letter:
Politicians with less than five years of experience were preferred over those who have given their life to the BJP.

The tickets were given to the candidates who have come from other parties and those who work for the BJP day and night were ignored.

This step of the senior leaders has shattered our belief that if we would serve the party to the fullest, we would also be considered to be given dignified positions.
The workers have, however, written that they trust in the Prime Minister and if he would intervene ion the matter the things would be sorted out in favour of them.
It could be mentioned that the five constituencies of Basti would go to polls in the fifth phase of the assembly polls. The voting would take place on February 27 and the results would be announced on March 11.