'Deviyon, Sajjano'... Meet the Devi and Sajjan of KBC 9!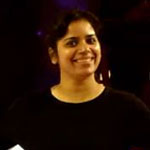 Sangya Ojha
Mumbai: These days on Sony Tv's Kaun Banega Crorepati a new element is seen, and it's garnering a lot of eyeballs, love and appreciation from the audiences - it's the two loveable puppet characters 'Devi and Sajjan'.
Devi-Sajjan have literally taken shape from Mr. Amitabh Bachchan's world of words. All of us would remember how he's been addressing the populace with these same adjectives 'Deviyon aur Sajjano' ever since the day KBC aired for the first time 17 years back. So, this season, Devi and Sajjan, a husband and wife duo from Patna decide to come to KBC to meet and speak with Mr. Bachchan and all the viewers of this grand show.
Now, many of us like and laugh with Devi-Sajjan on KBC, there's also a little lingering question in our minds as to who are these characters really, who plays them and how?
Well, today we'll raise the curtain and make you meet the voices, puppet-makers and puppeteers behind these cute characters who have amused Mr. Bachchan himself with their antics. These two puppeteers are Sangya Ojha and Hashim Haider from The Puppetarians, Mumbai. Hashim plays Sajjan and Sangya takes on the role of Devi while wearing the puppets in their hands and taking out the voice simultaneously on shoot.
'Many people think that these characters are 'cartoons', which is so not the case.' Says Sangya. 'These are PUPPETS. Physical Puppets. Played by puppeteers on shoot. What we do on KBC is called video puppetry or television puppetry. And it's a very specific art with detailed techniques and guidelines. It basically means puppeteering for a camera rather than a live audience. And there are different requirements for performing for a camera. The camera sees the puppets really closely, so any movement of the puppet is exaggerated and seen very clearly on screen. So, even a little flick of the puppeteer's wrist translates into a puppet action. That makes Television Puppetry a very unique art.'
Also Read: Virat Kohli turns 29, cuts cake with teammates; Watch video
Hashim adds, 'also, the set up for video puppetry is quite different, here the puppeteer also sees his performance in a monitor. He sees what the camera is seeing throughout the shoot. That way the puppeteer knows his frame, scope of movement and can deliver a detailed and nuanced performance. That is why expertise and experience is of value for a video puppeteer.'
Sangya spills some secrets, 'Puppetry is all about creating an illusion. Hashim and I stand and perform, wearing the puppets on our hands and arms. So the set of the living room in which Devi-Sajjan are seen sitting talking to Mr. Bachchan, is also raised high up. And their sofa actually has no base and has 5 feet long legs!' she laughs.
'Talking of secrets,' Hashim adds, 'Devi-Sajjan are only always shot waist up so they don't have legs as well. and while performing we create an illusion of them having legs, sitting, standing, walking etc. I'll go to the extent of saying that, these are puppets, literally lifeless beings, but our job as a puppeteer is to put life in them. And there are specific puppetry techniques to achieve this kind of nuanced performance. We trained under Martin P. Robinson (U.S) for long, learning these techniques and then practicing them all these years, to reach here.'
'11 years to be precise!' Sangya quips. 'We started our puppetry careers in 2006 with the Hindi version of Sesame Street India called Galli Galli Sim Sim. It's a television program for pre-schoolers which has puppets as its main cast, and Hashim and I performed many characters in the series before starting our own puppetry venture The Puppetarians in 2011. Because we started with television puppetry, we feel most drawn to it and we believe more tv puppetry should happen in India. It's high time!'
Hashim says, 'puppets appearing on tv, talking to the mega star Mr. Bachchan and on such a grand platform as KBC, it's making puppetry more popular and more relevant. Today KBC is watched by millions of viewers across India, which means through Devi-Sajjan, the art of puppetry has also reached millions of homes in this country. It makes us really happy.
You may also Read: Ind vs NZ: Misses for Dhoni, defeat for India | Kiwis win by 40
Sangya mentions, 'with our puppetry initiative The Puppetarians we also do a lot of live shows, workshops etc. We travel extensively, go to schools, cultural centres, theatres and take this wondrous art form of Puppetry to children and adults alike. We've experienced that puppets bring out the best in everyone. We've got lots of love from cities big and small, audiences of all ages and class. But we know that to make puppetry really popular we'll have to access mass media. It is with this mission to entertain and to popularise puppetry that we started performing in tv shows.'
Sangya and Hashim started their television stint with Zee TV's Dance India Dance where they created and played Mogambo-Zogambo, the father-son duo. These characters were also featured in Dance Ke Superstars and Super Moms, and also hosted the red carpet for Zee Rishtey Awards 2013. Two crow characters who are also movie-buffs were created for 9X Jalwa's 'Kauwaa Kauwaa' and they also made 'Acting Ka Keeda' for India's Best Dramebaaz. For 'Hindustan ke Hunarbaaz' Sangya and Hashim made and played 'Sona and T'. The list goes on.
'We, so far, have always made our own puppets be it Mogambo-Zogambo or Devi-Sajjan. Each character is different from the other and that's what makes it fun.' Sangya says.
Hashim adds 'for KBC we're really thankful to everyone at Sony TV and Big Synergy for envisioning us as part the show. It's been an honour and a great learning watching Amit sir work his magic everyday on the sets. We're in awe of him and his work as an artist.'