Indian and US armies conduct Joint exercise in Uttrakhand
This is the 12th edition of the training which is hosted alternately by both the couthries. This edition of the exercise is being conducted in the foothills of Himalayas at Chaubattia in Uttarakhand. According to the ministry sources nearly 225 personnel of the US Army and similar strength of Congo Brigade of the Indian Army have participated in the Abhyas
New Delhi: The Indian and United States troops, on Thursday, carried out a joint training in the state of Uttarakahand for carrying out operations in the mountainous terrain. The exercise was a part of the ongoing Yudh Abhyas 2016. Indian Army with its expertise on deployment and operations in the mountainous terrain shared its rich experience of mountainous warfare with the US troops.
The troops were also given opportunities to enhance their skills on specialized mountain warfare techniques like rock craft, rock climbing and cliff assault.
The joint training in the mountainous terrain provided valuable inputs which will facilitate both armies to enhance interoperability and prepare for undertaking any operations in rugged mountainous terrain in future, stated Defence officials of India.
Also Read: Uri Attack: Unseen Pictures that will make you teary-eyed
Read further: About the Yudh Abhyas....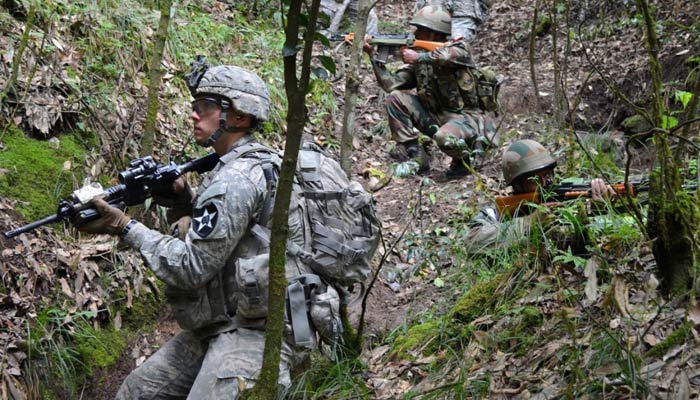 Yudh Abhyas:
Started on September 14, the YUDH ABHYAS-2016 is a series of one of the longest running joint military training and a major ongoing bilateral defence cooperation endeavours between India and US.

This is the 12th edition of the training which is hosted alternately by both the couthries.

This edition of the exercise is being conducted in the foothills of Himalayas at Chaubattia in Uttarakhand.

According to the ministry sources nearly 225 personnel of the US Army and similar strength of Congo Brigade of the Indian Army have participated in the Abhyas.

The training will culminate with a final validation exercise in which troops of both countries will jointly carry out an operation against terrorists in a fictitious but realistic setting, stated the ministry sources.
You may also read: India slams Pakistan in UNGA for calling Burhan Wani 'A Leader'