You won our hearts: Bollywood celebs praise Israel PM Netanyahu
Mumbai: Tinseltown celebrities who were all present at the event 'Shalom Bollywood' held in Mumbai, on Thursday last, praised Israeli Prime Minister benjamin Netanyahu.
Megastar Amitabh Bachchan, Karan Johar, Madhur Bhandarkar, Vivek Oberoi, Abhishek Bachchan, Aishwarya Rai-Bachchan, Subhash Ghai, Imtiaz Ali, Prasoon Joshi, Randhir Kapoor, Ronnie Screwvala, Raj Nayak and Sara Ali Khan were among some of the names from the film fraternity present at the event.
Karan tweeted a series of photographs of himself with Netanyahu. He stated, "A complete honour and privilege to meet with the honourable Prime Minister of Israel Benjamin Netanyahu... Such a wonderful evening with friends of the fraternity."
Bhandarkar said, "It was great attending presentation on history, culture and geodiversity of Israel along with film fraternity and had a pleasure interacting with Honorable Prime Minister of Israel Netanyahu and the first lady."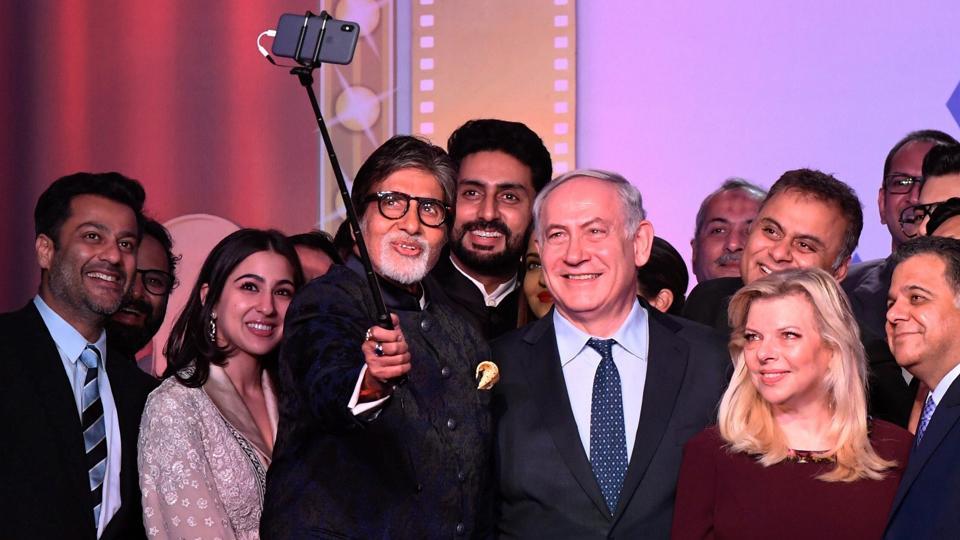 Vivek said it was an incredible pleasure to meet Netanyahu, who welcomed Bollywood to feature Israel's natural beauty in its movies.
"You are an amazing ambassador for Israel, you won our hearts! Looking forward to visiting your beautiful country and experiencing the rich Israeli culture very soon," Vivek tweeted.
ALSO READ: Israeli PM to meet Jewish community in Mumbai
Ghai was touched by the delightful scene when Netanyahu invited celebrities for a selfie and Amitabh helped him to take the selfie.
"A pleasant evening indeed," he said, adding that he was glad that master of ceremony Mandira Bedi did not use the word "Bollywood" in her speech, nor did Amitabh while welcoming Netanyahu.
"They used the word Hindi cinema, a real title of pride for Indian and Indian cinema," Ghai added.
On Netanyahu's wish, the celebrities posed for an Oscar-like selfie.
Netanyahu shared the photograph on his Twitter page, writing, "Will my Bollywood selfie beat Hollywood selfie at the Oscars?"
To that, Modi wrote, "Wonderful bonding, Prime Minister!"