Bangladesh landslides | Death toll rises to 125, many injured
Dhaka: The deaths in devastating landslides triggered by heavy rains in southeast Bangladesh rose to 125 on Wednesday.
Heavy rains since Monday morning swept through Bangladesh's three southeastern districts namely Chittagong, Bandarban and Rangamati and triggered huge landslides early on Tuesday and damaged hundreds of homes.
Disaster Management Ministry official G.M. Abdul Quader said that they received highest casualty information from Rangamati district, around 391 km from capital Dhaka.
"Eighty-eight bodies have so far been recovered in the Rangamati district," said Quader who supervises the Disaster Ministry control room in Dhaka.
He said 37 more deaths have been reported from Bandarban, around 316 kilometres away of capital Dhaka, and Chittagong district, 242 kilometres southeast of Dhaka.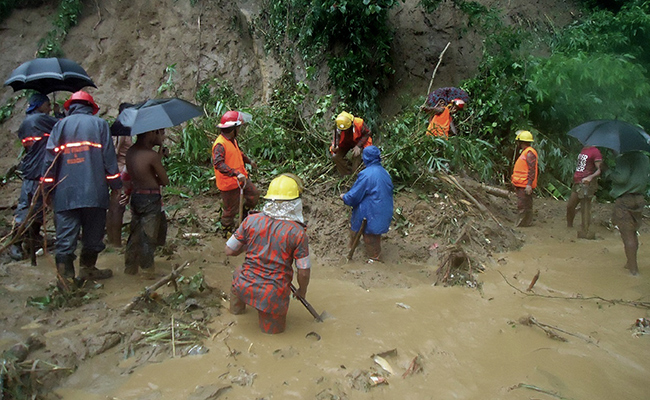 He said rescuers pulled at least 30 bodies out from the mud and earth in Chittagong while seven people were killed due to landslides in the country's southeastern Bandarban district.
Scores of people were hurt and some people including a soldier still remained missing.
Officials said the Rangamati death toll included four members of Bangladesh Army including two of its officers.
Inter Service Public Relations (ISPR) of Bangladesh Army said, "10 more army personnel were also injured in the incident while another still remained missing."
ALSO READ: Bangladesh landslides kill 35, rescue operation underway
Lieutenant Colonel Md. Rashidul Hasan, director of ISPR, told that army personnel died while they were working to clear a road in a worst landslide hit area in Rangamati district.
Rangamati Police Chief Sayeed Tarikul Hassan told that rescue operation is still underway.
He said that flood caused by the incessant rain inundated many areas of the Rangamati since Monday.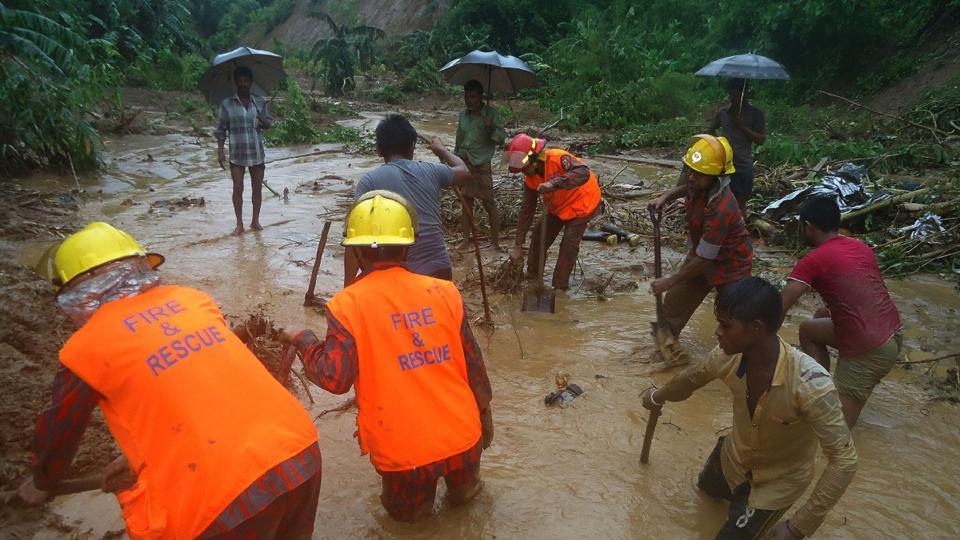 Rescue teams, using shovels and bare hands, are still searching for more bodies under tons of mud and debris.
But rescue operations were delayed due to bad weather.
More than thousands people have been displaced after unusually heavy rain on Monday triggered a string of mudslides.