PM Modi chooses Dussehra as occasion to send strong message to Pak
Lucknow: Starting his speech with 'Jai Sriram', Prime Minister Narendra Modi sent across a strong message to Pakistan, loud and clear, that the time had come not to spare those who nurtured terrorism.
Without mincing words , though without naming the neighbour, the PM was right on the spot when he said '' terrorism needs to be destroyed summarily but the need had arisen to destroy harbingers of terrorism as well.''. The message was loud and clear , so was the occasion.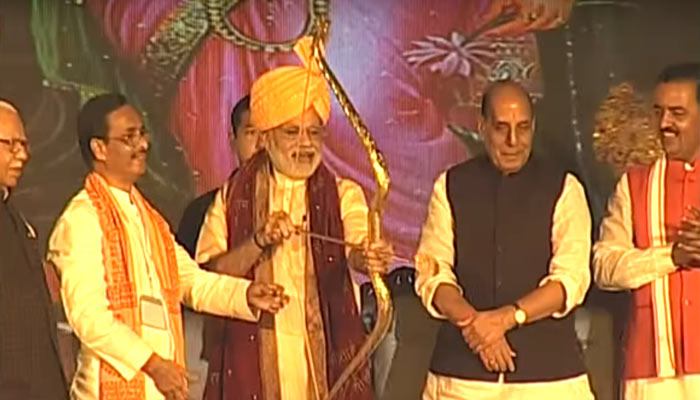 In his historic presence, Modi, in fact the first ever speech of any Indian Prime Minister at Ramleela ground of Lucknow on the evening of Dussehra on Tuesday, said the entire humanity was in danger at the hands of terrorism and it required a concerted effort of the entire 125 billion population of India to impart their role to get rid of this perilous phenomenon which ailed not only India but the entire globe in some way or another.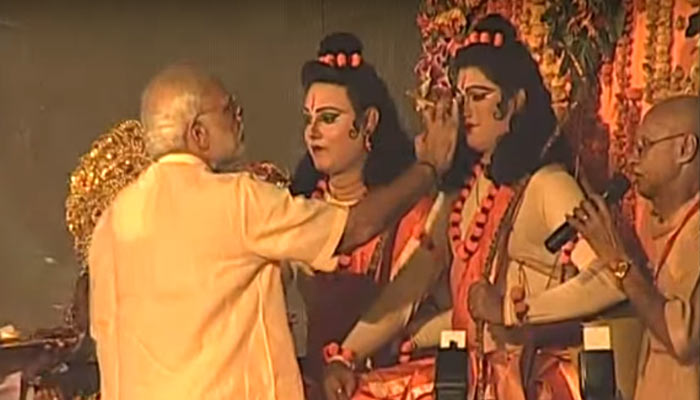 Taking a leaf out of the Ramayan time vedic literature, he said the first one to counter terrorism was 'Jatau' and the circumstances suggested every citizen had to become one to eradicate the terrorism. ''Every one has to become 'Jatau' in the fight against terrorism,'' he added.
The PM said 20-30 years ago, the rest of the world did not understand the sufferings of India till 26/11 took place. '' Any body who feels he is safe from terrorism is highly mistaken as it has become absolutely borderless and limitless, '' he said while stressing the need of the concerted efforts of the world to counter terrorism.
Pointing out the act of terror in Syria, Modi said it brought tears in the eyes when the picture of small children came before us. '' The severity of this has to be understood and that is why the terrorism and those who give shelter to terror should be taken to task.''
Reiterating India was a peaceful country but the war had often been imposed on it, he said '' kabhi yudh avashyak ho jata hai lekin hum log yudh se budh ki ore jana chahte hain ,'' was all he said as to explain despite the war India had to involve in, the peaceful journey was what India always strived for.
He said he considered himself fortunate to have visited the land of Rama and Krishna and that too on the occasion of Dussehra.
What else PM Modi said?
Women should be respected and treated well.

We need to put a stop on discrimination based on gender.

Traditions have been kept alive in our nation.

I greet people of India on the auspicious occasion of Vijay Dashmi.

I am very fortunate for being a part of ancient tradition of Ramleela.
Also read: Pakistan journo Almeida faces govt wrath after anti-army report
Also read: RSS replaces its trademark khaki shorts with full pants