Misirpur, the first cashless village of UP is in Modi's constituency 
Varanasi: In order to push the cause of cashless economy, Misirpur village in Varanasi, the parliamentary constituency of Prime Minister Narendra Modi, has become the first cashless village of Uttar Pradesh following commendable efforts of Bank of Baroda.
The farmers were provided with smartphones while shopkeepers were given micro ATM machines and Point of sale (PoS) devices. Payment could be done via swipe machine in every small and big shop of the village. BoB has adopted Misirpur village after which a public meeting was held in order to inform people of village regarding the benefits of cashless economy.
Earlier, Dhasai village in Thane district of Maharashtra had achieved distinction of becoming first cashless village of the country.
Also read: A Maharashtra villages takes the lead in transforming India
What Deputy General Manager of Bank of Baroda Shishir Bhushan said?
· Cashless transactions will eradicate Black Money from the nation.
· Following the same, Bank of Baroda has begun 'Mera Mobile, Mera Bank, Mera Batua' scheme.
· In this scheme, farmers will be given a smartphone of Rs 10,000 on two year loan basis.
· People could enjoy free Internet within 50 metres, when village will become free WiFi zone.
"The smartphone has Bank of Baroda apps including M connect, M Baroda, M Clip and M passbook," said Deputy Regional Manager Rakesh Kumar.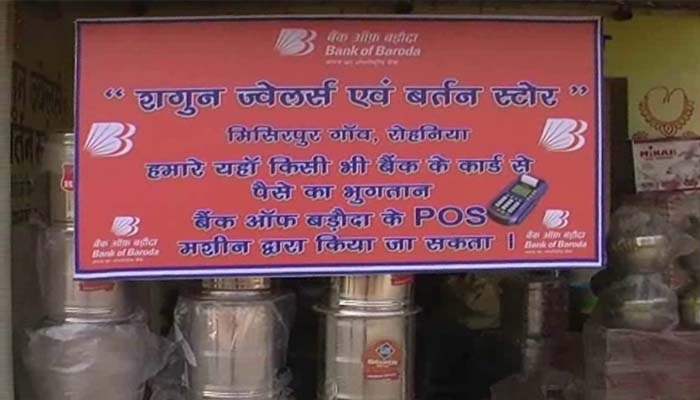 Other facilities given by the bank:
· About 2,200 account-holders are issued ATMs.
· Small shopkeepers are given free micro ATM machines.
About Misirpur village:
· Misirpur is a small village, situated near Vidyapeeth block of Rohaniya thana.
· The village has population of about 4,400 people.
· About 34 shops are there in Misirpur village.
Also read: Cash-less economy scheme: two pioneering villages show the way