Yogi's MLAs, officers enjoy Kailash Kher concert when Kasganj burns
Lucknow: When Kasganj was shivering with fear and agony following the communal violence, the Uttar Pradesh administration was busy enjoying the concert of Bollywood singer Kailash Kher in Etah, nearly 32 kms away from the violence-marred district.
Among the attendees at the event were BJP MLAs from Kasganj Sadar and Amapur Devendra Lodhi and Devendra Pratap, respectively, Etah District Magistrate Amit Kishor and SSP Akhilesh Chaurasiya.
Despite being so close to the district where people were living in fear of life, these legislators and administrators had the audacity to attend the music function.
It is worth mentioning that the function was organised by DM Amit Kishor.
Kasganj, which was bifurcated from Etah district during the Mayawati-led Bahujan Samaj Party (BSP) regime, has been burning since January 26, Republic Day. Violence had erupted amid an unauthorised motorcycle rally carried out by ABVP members.
While the bikers were passing through a Muslim-populated region, some miscreants started stone-pelting which sparked the violence. It claimed the life of a 19-year-old boy named Chandan, while another sustained severe injuries.
Property worth millions was vandalised and set on fire by the protesting younths.
Also Read: Kasganj: SP Sunil Kumar removed; Piyush Srivastava to take over
All this was not enough to shake the Yogi Adityanath MLAs and administrators as they were busy enjoying the concert of the renowned singer.
After the situation went out of control in the district having a population of 14 lakh, the Bharatiya Janata Party-led UP government had sent out ADG Zone Agra Ajay Anand, IG Range Aligarh Dr Sanjeev Gupta and IG-rank officer DK Thakur.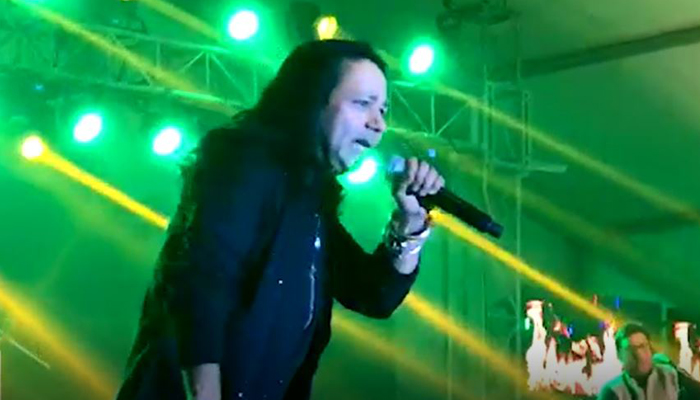 After three-days of continued violence, peace prevailed across the district, said the police, adding that three drone cameras had been deployed for areal surveillance.
Taking action into the matter, the UP government has transferred Kasganj SP Sunil Kumar Singh to Meerut, while SP PTS Unnao Piyush Srivastava has been posted in Kasganj.
The Yogi government has, however, claimed that they will not spare the guilty at any cost.
In an official statement, the UP police said, "So far, 112 persons have been arrested. As many as 31 accused have been arrested, and 81 preventive arrests have been made."