UP Investors Summit 2018 concludes with President Kovind's address
Lucknow: Defence Minister Nirmala Sitharaman marked her presence in the Uttar Pradesh Investors Summit 2018. The Defence Minister also met Chief Minister Yogi Adityanath before the screening of the short film that has been made on the Defence sector of the country.
Dr. Ajay Kumar, Secretary Defence Production in Ministry of Defence, said, "New Industrial Corridor is a historic decision and U.P. has taken up a big responsibility, which is commendable."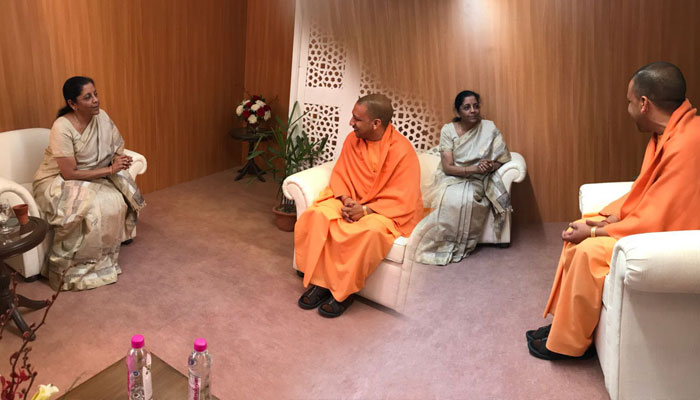 Check Out LIVE happenings:
https://twitter.com/InvestInUp/status/966535571655966720
Defence Minister Nirmala Sitharaman addressed the gathering at the event.
Speaking at the event, Railway Minister Piyush Goyal said, "I want to congratulate CM Yogi Adityanath and Satish Mahana for bring an all new system for investment in Uttar Pradesh. The investors and businessmen should also be congratulated for showing interest in the state and the summit."
What else Piyush Goyal said?
CM Yogi has prepared a 'modern outlook' in UP which could be understood by his visit to Noida.

CM should be congratulated for breaking the jinx and visiting Noida which is a hub for industries.

This Investors Summit is like the Kumbh mela.

Just like over 50 million people gather at Kumbh, the investors have come together for his summit.

We have rolled a red carpet for investors in UP, hoping to transform the state into the second engine of India's economy.

Electric Loco Shed will be established in Gorakhpur.

A five star hotel will be constructed at Katarniaghat.

Railway network will be brushed up across the entire state.

PM Modi has modernised Rae Bareli's coach factory, which is producing 600-700 coaches.

An auxiliary park will be made in Fatehpur.

We have planned a coach refreshment factory in Jhansi eyeing upliftment of Bundelkhand.

General coaches of the trains will be treated for providing better experience to the travelers.

Railways will invest Rs 26,390 crore.

We have laid 410 kms of railway line.

I take responsibility of trains running late as the railways tracks are being renewed.

The improvement in law and order is significant.
Pointing out two key things for bringing investors to a place, Chief Minister Yogi Adityanath said, "'Rule of law and order' and 'red-tape mechanism' are the two most important needs for preparing a healthy atmosphere for investment."
What else Yogi Adityanath said?
We will provide security to all and will not allow anyone to violate the law.

We have relaxed several processes for 'ease of doing business in UP'.

Yesterday, PM Modi launched a digital clearance system in the name of 'Nivesh Mitra'.

I will personally monitor its application.

We are also planning to roll out a heritage train.

A lot of work is being done for the development of eco tourism.

Work is under process for developing a defence production corridor in Bundelkhand.

UP is full of possibilities.

The investment of investors is safe here.

We want to welcome all the investors here.
The Media and Film Session was joined by minister Neelkanth Tiwari, film producer Binney Kapoor, Anurag Kashyap, actor Ravi Kishan and Subhash Ghai.
Speaking at the grand event, actor Ravi Kishan said, "I have fought the battle of film production in UP. People used to say that there are a lot of mafias in your state. But now the things have become better."
Boney Kapoor batted for construction of cinema halls in UP, saying, "Films will never get a platform if there will not be any cinema halls. So, every district should have good number of theatres."
Filmmaker Anurag Kashyap said, "All the improvement in cinema has only come because of state policy. Our main cinema is in Hindi language but we do not have adequate hardware (cinema halls). The smalls films get consumed by big movies because of the same reason."
MoUs signed in the session:
The government signed MoU of Rs 250 crore with BSK films.

MoU signed with Jayshree Madhav Communication worth Rs 110 crore.

Big Bang Media will invest Rs 100 crore.

Rupa Mehta's Rupa Publication will invest Rs 25 crore here.

Vision Air will invest Rs 5 crore.

Mighty media will invest Rs 1 crore.
Finance Minister Arun Jaitley, who reached a little late, also addressed the delegates at the mega event. He began his address heaping praises at the Yogi Adityanath government saying, "UP is writing a new history under the leadership of CM Yogi, which is working with a fresh vision."
What else Arun Jaitley said?
This summit is the foundation stone of enhancing the financial capabilities of the state.

This is the age of globalisation where investors have every right to choose from the countries where they want to invest.

So in this situation, it becomes compulsory to be the point of attraction.

The government must have money to serve the poor better.

Such atmosphere helps the investors and the practice keeps the investment rising.

It has been unfortunate that the previous governments have only been busy dividing people on the lines of caste and creed.

Now, the Yogi government is moving in the right direction.

Yogi government has proved that law and order can be good in UP also.

Some tough decisions were must to bring investors to the state.

Railway modernisation will change the face of the state.
President Ram Nath Kovind said that Uttar Pradesh does not only require an economic investment, but also an emotional investment.
What else the President of India stated?
Continuous investment will give continuity to the development of the state. For this, such a summit should be organized continuously.

I congratulate the Uttar Pradesh Chief Minister Yogi Adityanath for this grand event of the UP Investors Summit 2018.

There is a difference between organising a summit and organising a successful summit.

The modernisation of railways will play a major in the development of UP.
Congratulating the state government for the grand event of UP investors summit, Governor Ram Naik said that CM Yogi Adityanath has potential amd his government will definitely take the state forward.
What else Ram Naik said?
No one will leave Uttar Pradesh and go to other cities if we provide them multiple opportunities here itself.

UP Investors Summit 2018 has been registered in golden words in history. Even, PM Modi accepted that UP's summit was better than the first summit of Gujarat.
Happenings of the inaugural session of the summit:
Prime Minister Narendra Modi was welcomed by a robot created by a group of students engaged in a startup at the inaugural session of the "UP's Investors Summit 2018" here on Wednesday.
The robot greeted the Prime Minister and other dignitaries by saying "Athithi Devo Bhava" (guests are gods) and by gifting them a rose bud. The robot can speak English and Hindi and has been created by an engineer of Lucknow Milind Raj and his team. The robot identifies persons through their retina scan and can be used in emergencies such as fires, the makers informed.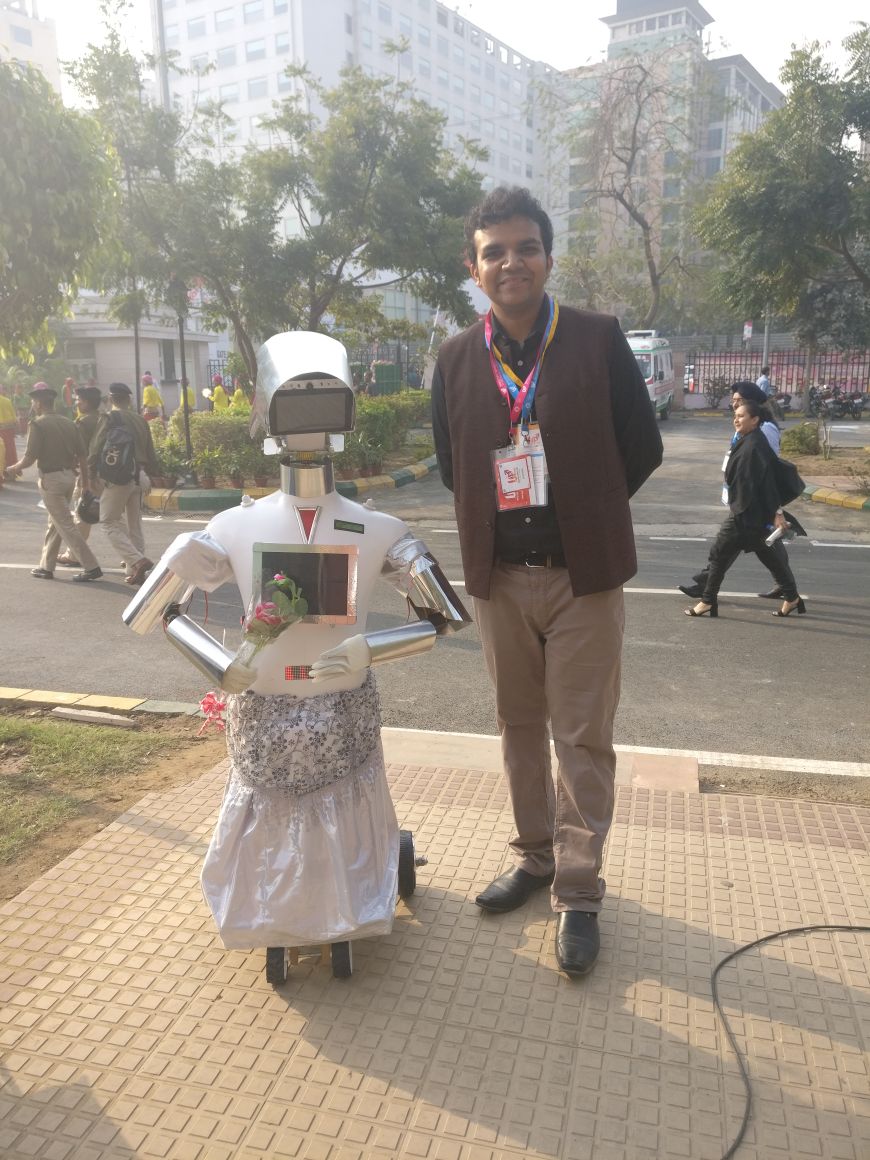 Prime Minister Modi had arrived at the Chaudhary Charan Singh International Airport at Amausi in a special Indian Air Force (IAF) plane, after which his cavalcade drove straight to the Indira Gandhi Pratishthan in Gomtinagar where he first viewed an exhibition and then addressed investors, industrialists, officials, ministers and other lawmakers.
At least 18 Union ministers and 100 speakers are attending the event aimed at showcasing business and investment potential across the state.
The PM is later scheduled to have tea with select industrialists like Mukesh Ambani, Gautam Adani and others.
The Special Protection Group (SPG) has given clearance for the proposal mooted by the organisers of the mega event. Chief Minister Yogi Adityanath has already seen a presentation of the robot, an official said.
President Ram Nath Kovind will be attending the valedictory session of the meet on Thursday.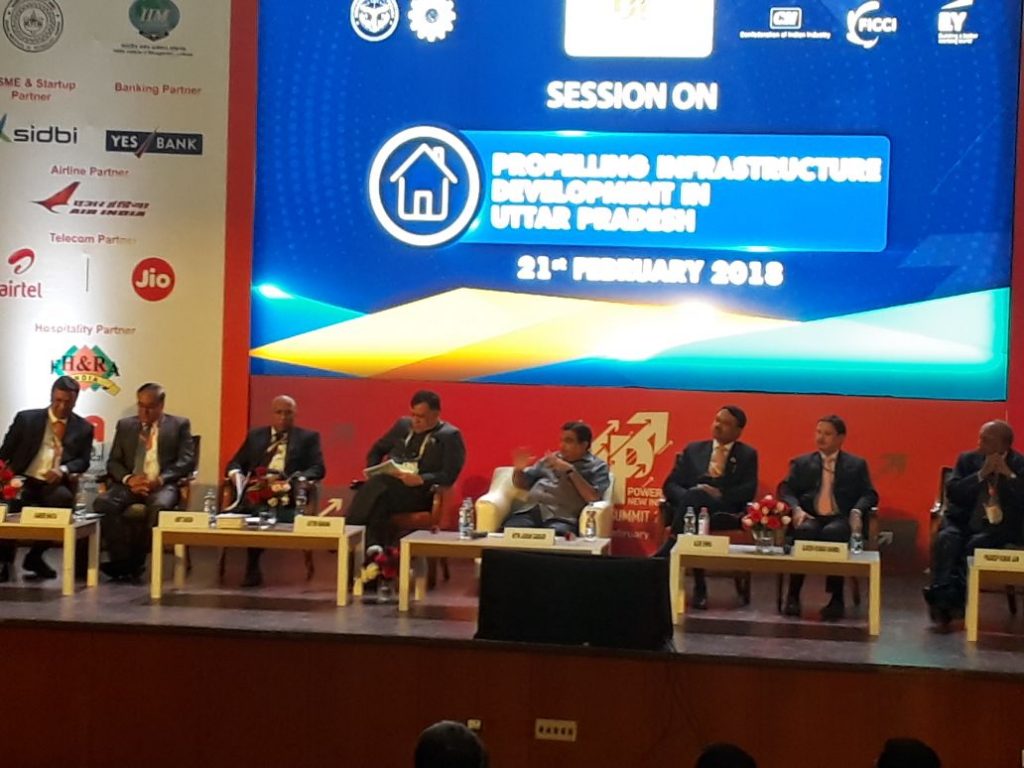 Union minister Giriraj Singh and Minister for Khadi and Villiage Industries Satyadev Pachauri reach session of MSME's sector.

Deputy CM Dinesh Sharma, in creative hub to world session, said that the government will give security, resources and simple procedures to investors and will work together with them.

Union Minister for Road Transport, Highways and Shipping Nitin Gadkari said that about 80 per cent Ganga river would be pure till May 2018.

Gadkari said, "If we make system free of corruption and transparent then there would be no shortage of money and schemes."

Rajnath and Yogi Adityanath reach Industrial and Infrastructural Security Session.

Giriraj Singh said that there is no scope for any Vijay Mallya or Nirav Modi in BJP government. He added that nobody having corruption charges over him would be spared.

I urge everyone to focus on development instead of politicking, said Giriraj.

Union Minister Smriti Irani said that this is for the first time she has seen such enthusiasm for textiles in Uttar Pradesh.
Also Read: Uttar Pradesh Khadi goes global: MoU with Amazon for online sale
Highlights from Dinesh Sharma's speech
The state government will give security, resources and simple procedures to investors and will work together with them.

He said that this is a great opportunity for both investors and government to bring more development in the state.

We are expecting a Rs 100,000 crore investment from UP Summit.

As far as IT is concerned, 55 thousand crore MoUs are being signed.

Police station, medical facility, electricity and housing are being included in our industrial policy.

There is a great need of mobile manufacturing. About 70 per cent people are using UP made mobile phones.

UP did about 33 per cent tax collection in just 11 months.

We have given several suggestions regarding export to the Indian government, on which the work is under process.
Highlights from Rajnath's speech
Rajnath said that security acts as insurance for investment.

For every investment, what is most important is security.

Police need much more training and resources.

Both Uttar Pradesh Chief Secretary Rajive Kumar and UP DGP OP Singh are experienced.

Several states have made their separate forces and UP also needs one.

Cyber crime is one of the major challenges that almost every state is facing.

Anybody can steal your data by sitting at any corner of the world.

Our forces are set to deal with the cyber crime.

Security forces should be provided with adequate supervision.

Security environment has enhanced.

There is a sharp decline in crime due to zero tolerance policy.

UP means unlimited potential.

People of Uttar Pradesh have tendency of working tirelessly because of which they can leave behind anybody.
Highlights from Ambani's speech:
PM Modi wants to make Uttar Pradesh 'Uttam Pradesh'.

The state is not only rising but racing ahead.

Digital India initiative will help the country to race ahead. That is the reason why we have started Reliance Jio.

We will make available over 2 crore Jio phones in the state in the next few months on a priority basis.

Reliance will be a reliable partner for the people and the government of Uttar Pradesh.

Jio will create over One Lac new and sustainable livelihood opportunities in Uttar Pradesh.

Reliance Foundation to play a key role in Namami Gange Project.
Highlights from Adani's speech:
Adani gorup will invest 35 thousand crore in Multi Model Logistics in UP

India's GDP will triple in the next few years and the country is being spotted as the most reliable investment option for the globe and India cannot grow without UP.

Yogi Adityanath's leadership is attracting new investments in the state.

We will stand with you in your journey of transforming Uttar Pradesh.
Also Read: Adani assures Rs 35000 crore investment in UP in five years
Highlights from Kumar Manglam Birla's speech:
UP will become Aditya Birla's highest investment state. In next five years, we plan to invest nearly 25,000 Crores in Uttar Pradesh.

We are the largest private-based investors in the state.

Industrial investors will find several opportunities across different sectors in Uttar Pradesh today.

Going forward, we will be investing in growth of all our major businesses in next five years including telecom, cement and chemical sectors.
Highlights from Anand Mahindra's speech:
Uttar Pradesh should compete with countries not with states.

Club Mahindra will be executing an MoU with UP Government for more than 200 Crores.

UP is a rich state possessing natural resources in abundance. Its size makes it a country in itself.

Have been hearing the stories of business and Uttar Pradesh from my mother. Feels like I am back home. UP has the largest population, strong rail network.

The targets should be set high for such a vast territory.
Highlights from Chandrasekharan's speech from TATA group:
Tata Sons will be a part of the vision set by our Prime Minister and will continue to increase its engagement in the state.

The growth of UP will ensure that India reaches its ambition set by PM Modi.

TATA motors, TCS are present in the state and we further want to participate in the growth of the state.

TCS will continue to make it presence in Lucknow very strong. TCS will also soon operate in Varanasi.

We want to strengthen our presence in UP, be it in the agro, infra or social sector.

We will build a new campus for 30,000 people in the state and will also open an IT centre in Varanasi.
Highlights from FICCI president Rashesh Shah's speech:
FICCI congratulates the leaders of the state for conceptualising the summit.

UP is the opportunity that the investors are looking for investing their money.

The state has a lot of potential in the dairy, agrarian sector and manpower.

FICCI already has many projects in the state and a lot is in pipeline for UP.
Companies from the Czech Republic, Belgium, Thailand and other foreign countries took active interest while delving the investment opportunities in Metro in Uttar Pradesh on the first day of the UP Investors Summit, 2018.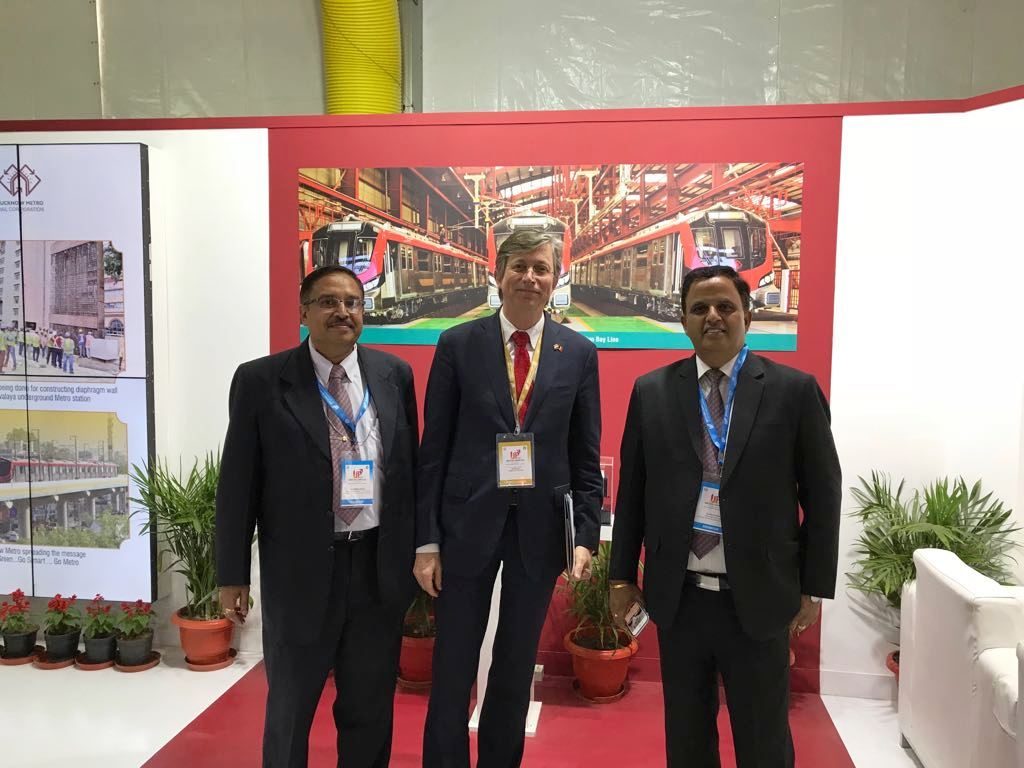 Companies like Mikroelectronika, Cink, ELRay Mil Vehicles & Technology Private Limited and a delegation from the Department of Foreign Trade, Ministry of Commerce, Thailand led by its Director General Adul Thotinisakorn visited the Lucknow Metro stall/ pavilion displayed at UP Investors Summit, 2018 and took active interest in investing in different technologies for Metro in Uttar Pradesh.