This is how Solar Eclipse will shine bright on Zodiac Signs
The solar eclipse for year 2020 is set to take place on 21 June. It will have many effects on Zodiac signs too. Let's see positive effects of Solar eclipse on Zodiacs
The annular Solar Eclipse for the year 2020 will take place on June 21. Explaining the science behind Solar Eclipse or 'Surya Grahan'- it occurs when moon passes between the Sun and the Earth. In this celestial phenomenon, the image of sun is totally or partly obscured for people on Earth. Therefore, sky also appears dull or almost black for that period of time. Although it's a scientific thing but people in India associate it with astrology and believe it has some effects on Zodiac Signs.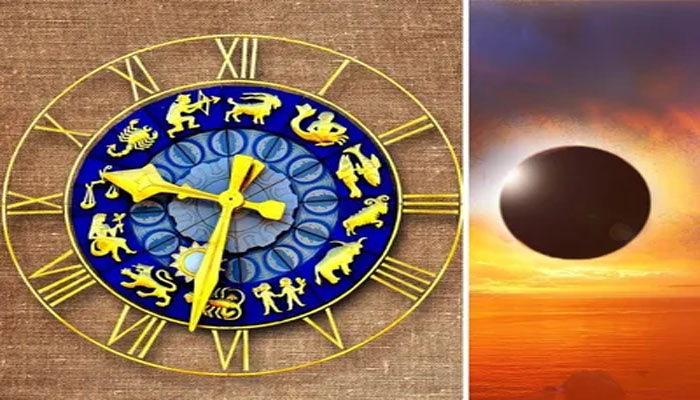 Also read: World stocks turn higher despite worries over virus rebound
Eclipse's positive effect on Zodiac Signs
Aries (March 21- Aril 19)
It is expected that this solar eclipse will bring out too many positive vibes for Aries people. Students will succeed in their studies while ones is job may receive promotion. It will be good for those too who are planning to open new ventures in business. They are advised to recite Bajrang Path
Taurus (April 20-May 20)
This solar eclipse will spark the optimism in lives of Taureans. Just take care of health. Helping a needy in meanwhile can be a lucky charm for Taurus people.
Gemini (May 21- June 20)
Gemini people may receive a good news especially related to property matters. Blessings are on way, Just have faith. This solar eclipse may be lucky for Geminis.
Cancer (June 21- July 22)
Friends will shower love on cancerians A long pending official/government work specially may get completed. Just take care of your health. Donating 'jaggery' will work as a lucky charm for Cancer people this solar eclipse.
Leo ( July 23- August 22)
Leo people are most likely to receive a good news on coming solar eclipse. They will have monetary benefits too. Just take blessings of elders specially father and it will help in career. Meditation and Yoga will give strength to Leo's.
Virgo (August 23- September 22)
People in business and students will have great news through this solar eclipse. They will excel in their respective fields. Reciting Shri Suktam may be lucky.
Libra (September 23- October 22)
People working for new business on projects will have a great time. They are most likely to receive a good news. Helping poor will benefit them.
Scorpio (October 23-November 21)
Great news is on the way for Scorpio people. If planning to buy a new house or willing to shift somewhere else, this solar eclipse will be a great time but remember to take care of your health.
Sagittarius (November 22- December 21)
Sagittarians planning to do business will be in great benefit. Great wealth is on the way but remember to take care of partners. They may experience some trouble. Reciting Aranyakand Path will be helpful.
Capricorn (December 22- January 19)
Capricorns doing business will have great profit. Long pending tasks will get finished and reading Hanuman Chalisa will help in staying away from illness.
Aquarius (January 20- February 18)
Aquarians will gain spiritual benefits. People in business will also have great time. Try to take care of mental health and reading Bajrang Ban will help
Pisces (February 19- March 20)
People in job will receive great support of their seniors and bosses. Health may give some troubles but reading Shri Vishnu Sahasranama and the Shri Suktam will help.
Also read: Google Bans Over 30 Malicious Apps From Play Store