Padmaavat: Laxman had foreseen consequences 25 years ago
Lucknow: Indian movies could have everything- ethical and social values, historical inputs and a non-vulgar source of entertainment but still they could lose it for want of simple 'OK' from the so-called major political groups of the country.
Only the greats can foresee it. The legendary cartoonists RK Laxman did it precisely!
It was in year 1993, when the 'cartoonist of the masses', Laxman had visualised the extent to which 'so-called' moral police or big shots from the political world could affect your entertainment choices.
The Padma Bhushan awardee had, in that year, sketched a cartoon which showed the fear of the Film Certification Board in India which holds true till date.
https://twitter.com/vineetjaintimes/status/956054781549862912
Sad but true that we have not moved an inch forward in these 25 years.
The cartoon has been circulated on social media again as it holds relevance to what is being going on the country over the release of Sanjay Leela Bhansali's Padmaavat.
Also Read: Box-office numbers of Padmaavat will be earth-shattering: Deepika
The cartoon: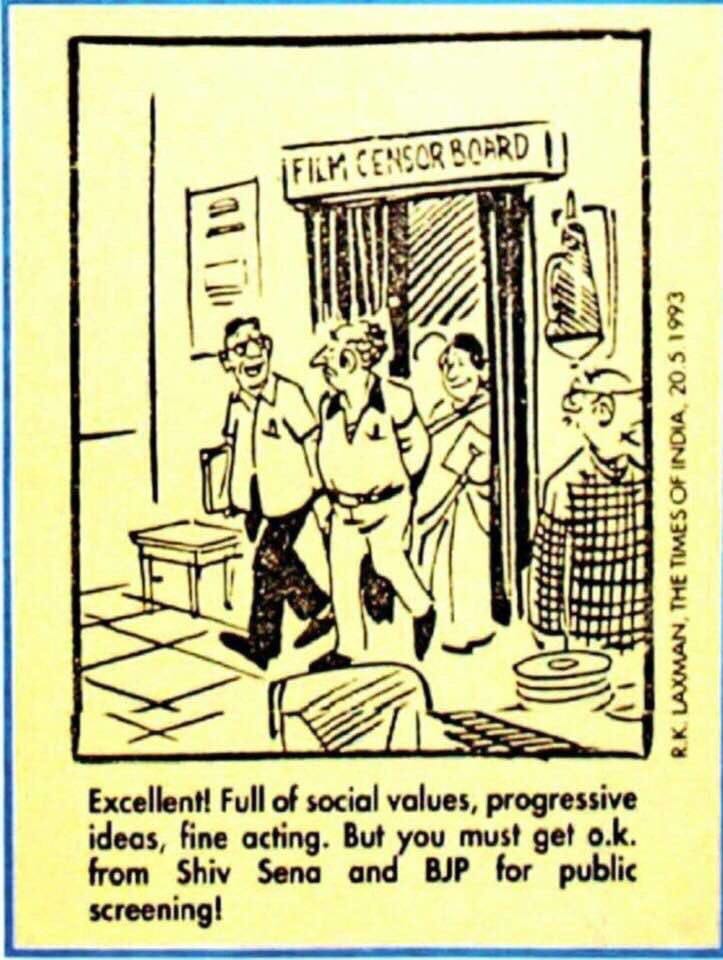 RK Laxman had shown his sarcastic excellence while commenting on the BJP, Shiv Sena's interference in the films. His captioned had warned the filmmakers to get a 'Yes' from those big politicos for the public screening.
It is, however, complete fault of Bhansali that he neglected the warning issued years before. Not much before, in fact, the cartoon is said to have been probably skectched during the release of Sanjay Dutt's movie Khalnayak for which the same incidents had taken place over the famous song 'Choli Ke Peeche'.
The great cartoonist of India was indeed a farsighted man whose cartoons hold a strong relevance in Indian even after three years of his demise.