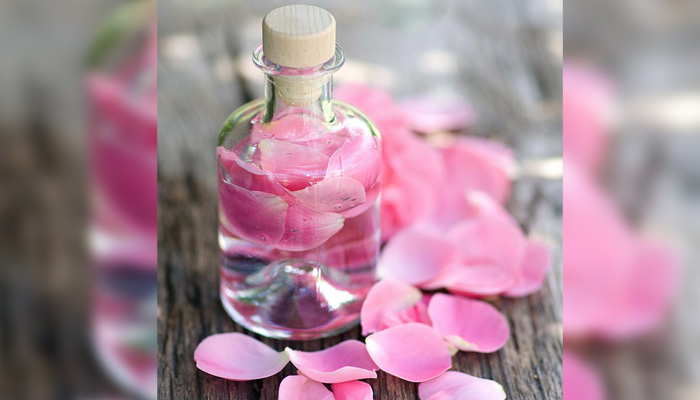 Not only in perfumes but rose water is also beneficial for your skin
Lucknow: Rose water or Gulab Jal is incredibly versatile thanks to its anti-inflammatory properties and rich content of antioxidants. The water helps soothe your skin, tone it, and keep it moisturized.
ALSO READ:Ganpati immersions: At least 18 people lost their lives across Maharashtra
Its versatility allows it to be combined with various ingredients to suit the needs of each skin type. Rose water is a liquid made from water and rose petals. It is used as a perfume due to its sweet scent, but it has medicinal and culinary values, as well.
There is a long tradition of rose water being used in medicine, including in Iran and other parts of the Middle East, as far back as the 7th century. There is also evidence of North American Indian tribes using it to treat ailments.
Here, I've put together a list of 10 skin benefits that rose water offers.
For acne
To treat your acne simply take 1 tsp of Lemon juice and 1 tsp of rose water. Mix all the ingredients together thoroughly. Apply the mixture to affected areas on your skin and leave it on for 10-15 minutes. Rinse it off with warm water.
ALSO READ:All eyes on India's top wrestlers Bajrang, Vinesh at World Championships
For skin brightening
In order to brighten your skin, take 4 tbsp of honey and 3 tbsp of rose water. Mix all ingredients together and apply the mixture onto your skin and let it sit for 10 mins then rinse off with warm water.
To reduce sun tan
To reduce sun tan take 1 tbsp of aloevera gel and 1 tbsp of rose water. Mix ll the ingredients together until smooth. Apply mixture onto skin and leave it on for 20mins then rinse it off.
To reduce puffiness
Rose water's anti-inflammatory and cooling properties not only leaves your skin feeling refreshed but it also tackles puffiness, especially under your eyes. By simply placing two cotton pads saturated with cold rose water over your eyes, you can tackle puffiness within minutes.
ALSO READ:Akhilesh Yadav to lend support to Azam Khan: visiting Rampur today
Slows Aging
Your skin ages faster because of exposure to the harmful UV rays of the sun, due to the use of products laden with harsh chemicals, stress, an unhealthy lifestyle, and pollution. All of these factors assist the generation of free radicals that damage your skin. Rose water's high antioxidant content helps tackle this by neutralizing the free radicals and keeping your skin healthy.
These were few benefits of rose water and you know what the best part is?? It has no side effects!!
Keep yourself updated with latest news through Newstrack App. To download App from Google Playstore visit here - Newstrack App