This is why Kim Kardashian went topless on her recent trip!
Los Angeles: Recently, American Television personality Kim Kardashian went on a trip to Tokyo with her sisters Kourtney Kardashian and Khloe Kardashian where she was seen eating dish without 'top'.
The reality TV personality shared a photograph of herself on Instagram.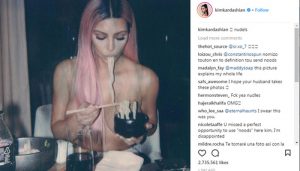 In the image, Kim, 37, is seen topless while eating. Her hands and freshly-dyed pink hair were positioned to partially cover her breasts.
Kim captioned the image: Nudels with a ramen 'emoji'.
ALSO READ: Kim Kardashian strips nude to flaunt her post pregnancy body!
The photograph garnered a lot of attention and comments, with one user quipping, "We've been eating noodles wrong this whole time."
https://youtu.be/YgVbbsCsMKU