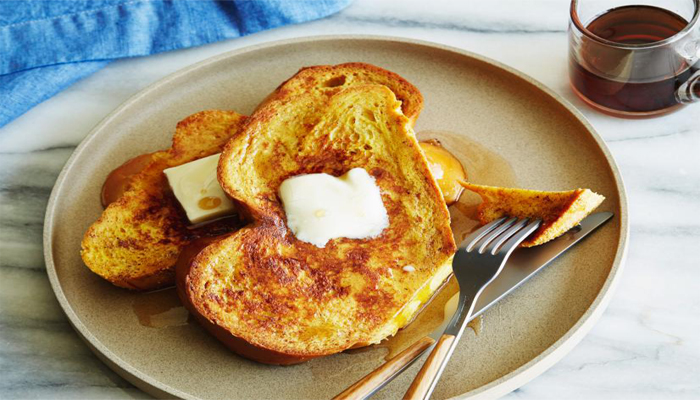 Here's the Super Easy Recipe of French Toast
Bored with same breakfast? Give a try to something new today. A delicious, quick breakfast can be a great start to the day. Picture a beautiful spread of breakfast dishes such as toasted breads, jams, eggs, fruits, cereals and juices, isn't it sure to brighten up your morning?! Toasted bread is one of the most common breakfast options because it is easy, quick and can be made into many other dishes such as French toast. It is nutritious, easy to make and delicious.
Read More: Sweetness For Your Monday; try this Cake Recipe
But if you think French toast is really French? Turns out, French toast isn't French but was actually originated in the Roman empire of 5th century AD. The Romans would dip their breads in the milk mixture, fry it in oil and butter, and enjoy it as a sweet dish. The addition of eggs came in later.
French Toast:
French toast is a made by dipping bread into a mixture of milk and eggs, and fried in oil. It is called "pain perdu" or "lost bread" in France even today. But what's a breakfast in India without some spices? A little spin to the classic French toast with the spices can make for a tantalising affair. We've got a stellar recipe of masala cheese French toast that is easy, quick and too delicious to resist!
In the recipe, slices of bread are first smothered with a herb paste that includes spring onions, basil, green chillies, coriander and chives. It is followed by spreading a sauce paste made with chilli tomato ketchup, mustard and mayonnaise over the slices. The bread slices, sandwiched with cheese slices, are then dipped in an egg mixture, and pan-fried in oil till cooked from both sides.
You can cut the spicy, cheesy French toast from middle and serve with some French fries on the side for breakfast.
Try it for your next breakfast!
Stay tuned with the newstrack to get fastest updates.
Click @englishnewstrack to follow us on Facebook
and @newstrackmedia to follow on Twitter.
Keep yourself updated with latest news through Newstrack App. To download App from Google Playstore visit here - Newstrack App