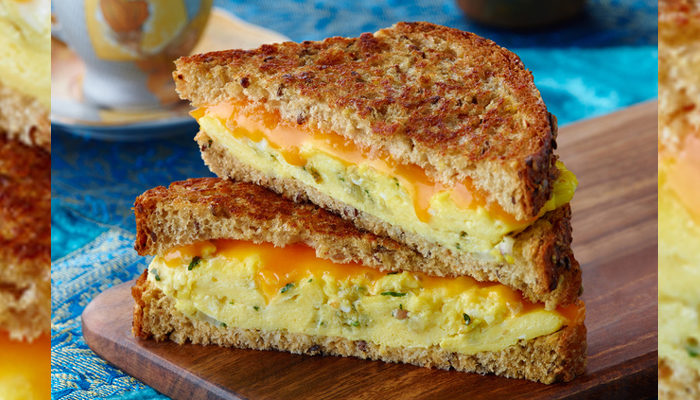 No time for healthy breakfast? This egg-mayo sandwich is all you need
Lucknow: In the present era, every other individual remains in a hurry and search for shortcuts for every work. We have almost no time to take care of our health. It is extremely necessary to eat healthy to deal with every day's work load.
It has always remained a myth that health and taste are two parallel structures that can never be taken together. Here, Newstrack brings to you this easy, delicious and healthy recipe which can be enjoyed at any time of the hour and is also a cure for your late night cravings.
Preparation time: 3 minutes
Cooking time: 10 minutes
Ingredients
-Bread slices- 6
-Mayonnaise of your choice
-Eggs- 2
-A small potato
-Cheese slices (optional)
-Salt
-Red chilli flakes/powder
-Chaat masala
-Oregano (optional)
-Tomato sauce
-Oil
-Butter
Let's start
-Boil the potato and mash it properly.
-Break the eggs into a bowl and blend them together.
-Add red chilli flakes/powder, salt, oregano and mix well.
-Heat oil in a pan and pour into it the egg batter.
-Scrammble the eggs together and add the mashed potato, mayonnaise and tomato ketchup.
-Mix well and switch of the flame.
-Spread the prepared mixture on one slice of bread, place a cheese slice, sprinkle a pinch of chaat masala and cover it with another slice.
-Apply butter on either side of the bread and toast it on medium flame.
-Your egg-mayo sandwich is ready.
Serve hot, take to your workplace or pack it in the tiffins of your children.
NOTE: Instead of frying the eggs, u can hard boil them, mash them and continue doing the further steps.
Keep yourself updated with latest news through Newstrack App. To download App from Google Playstore visit here - Newstrack App