Fashion Designer Asma Hussain to showcase 'khadi' at Gorakhpur Mahotsav
Models from Mumbai will sashay down the ramp donning khadi attires designed by famous designers like Asma Hussain, Runa Banerjee and Rupika Rastogi during a glitzy fashion show during the two-day Gorakhpur Mahotsav.
Asma Hussain fashion designer is show casing her wedding collection of khadi at Gorakhpur on 12 & 13 Jan 2021. Models from Mumbai will sashay down the ramp donning khadi attires designed by famous designers like Asma Hussain, Runa Banerjee and Rupika Rastogi during a glitzy fashion show during the two-day Gorakhpur Mahotsav.
The new collection of Khadi me Shaadi -2 is part of series done for KVIB UP by Asma Hussain . This collection comprises of wedding lehengas and grooms sherwani, kurta, dhoti etc designed out of khadi fabrics .
Asma Hussain explained about her collection-
"I have used the Khadi material which many people are not aware of . It is from our rich handicrafts heritage for which India was famous for and earned highest revenue and foreign exchange during 15 to18 century . The new techniques developed new textiles named Kimkhwab, Zarbaft ( brocade), Jamawaar, Jaamdaani, etc during those centuries were famous world over. During that time the textile industry was hand driven Which is now called handloom or Khadi as most of the yarn then were hand spun and fabrics handwoven, which now is the definition for khadi in order to protect the traditional heritage textiles of India.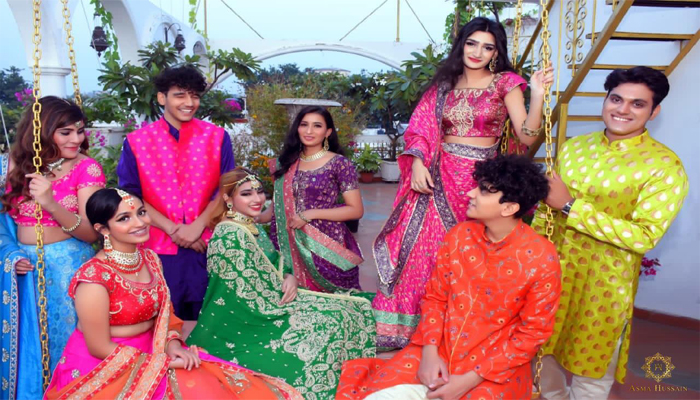 Using these textiles I have designed the collection 'Mehfil'
Wintertime and weddings, two things that are bound to bring people closer and when they get closer beautiful memories are made, filled with joy, laughter, surprises, late night talks over garam chai, gossip and happy tears. Presenting a very special collection by Asma Hussain, "MEHFIL". Celebrating families and memories that will last forever. Bring your family closer with beautiful handcrafted clothes perfect for pre wedding and wedding events, perfect for the celebration of your happiness.
The collection comprises of 16 garments 12 women and 4 men which are as follows:-
DHANAK
A beautiful dhani green sherwani handwoven with silk threads in shades of gold to form patterns of leaves, perfect for casual wedding events, in which you can chill, but also look like the sophisticated brother of the bride.
RADHA
A stunning classic lehanga in a striking combination of orange, red and pink Khadi silk with a hand embroidered zardozi silk blouse and a pink silk gherdar lehanga with an orange and red border and hand embroidered zardozi butas all over and a beautiful chiffon dupatta in orange is sure to make you stand out in the crowd.
VRINDA
A beautiful green heavily hand embroidered lehanga, of khadi Tanchoi silk inspired by the name itself and symbolises the prosperity and "haryali" that is the main theme of most songs sung in Indian weddings. With a beautiful dupatta and gherdar lehanga you're sure to look like a queen.
KABIR
Pure matka silk sherwani with floral motifs all over hand embroidered with silk threads a perfect way to brighten up your day.
FIROZA
Look like a gem in this turquoise blue pure silk brocade lehanga with zardozi hand embroidered all over and heavy butas on the bottom and beautiful embroidered border over pink silk. A classic short sleeved blouse with all over embroidery and a pure chiffon embroidered dupatta.
RUKMINI
A gorgeous purple and pink lehanga In katua weave khadi silk with all over hand embroidery. And an embroidered silk border in green, orange and purple. A pure chiffon fully embroidered blouse in purple and a heavy chiffon dupatta with a border matching the lehanga. A beautiful classic combination and a beautiful lehanga that shows both your elegant and playful side!
RANI
The name is fitting to both the beautiful rani (magenta) colour and how you would look in this lehanga. Like a queen. A beautiful lehanga of katua Khadi embroidered all over with Aari Zardozi work with an embroidered silk border in green, purple and orange for contrast with a matching heavy dupatta and a cap sleeved short blouse in pure silk brocade with a low back and a square neckline with zardozi embroidered all around and a matching motif in the middle.
CHNADRIKA
The unfiltered light of the full moon is how you look in this lehenga of khadi silk & cotton woven in tone on tone banarasi weave in pastel blue with silver zardozi
CHANDRAMUKHI
Purple and gold brocade lehenga in Applique work and zardozi is bound to make the wearer look like moon is descending amidst the dark clouds
CHANDRAPRABHA
Gold and purple brocade lehenga embroidered with crystals reflects the silver light like moon
SURYANSHI
The bright rays of sunshine dazzles the crowd as you walk down in this yellow and gold chenon handwoven kurta and duppatta with skirt embroidered in Zardozi
SURYAVANSHI
The orange matka silk kurta and satin tissue lehenga embroidered in metallic gold shines. Like the descendants of sun have landed on earth.
JAMUNI
The deep purple khadi silk lehenga in gold zardozi is the epitome of royalty for any receptions you want to stand out at
PREETI
The Gold brocade embroidered in red brocade applique. And gold Zardozi is bound to make you the Center of attention and affection
PRIYA
The Red khadi silk lehenga in gold Zardozi will make you the beloved the most enchanting bride
SRIDHAR
As the name suggests, the groom in this gold brocade sherwani looks the perfect.
The collection Mehfil in Khadi mai Shaadi is a deeply woven story of India's multi cultural heritage. Also, refined and modernised for present.
ALSO READ: COVID vaccine: Will attempt to cover eveyone in state, says CM Adityanath
Hope you enjoy the show at Gorakhpur Mahotsava!
ALSO READ: Five fresh cases of new Coronavirus strain recorded in Meerut; tally rises to 9
Stay tuned with the newstrack to get fastest updates. Click @englishnewstrack to follow us on Facebook and @newstrackmedia to follow on Twitter.