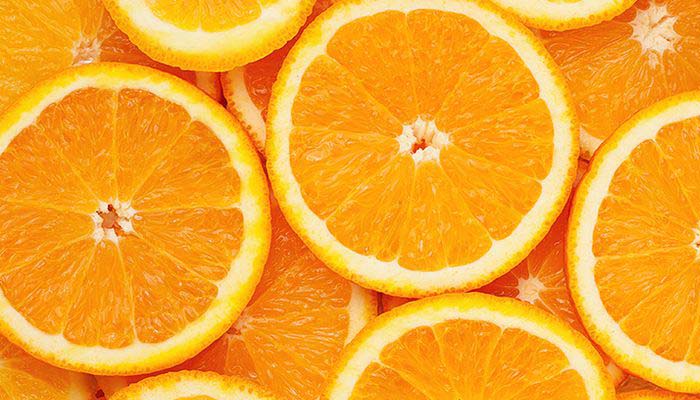 Eat Oranges To Save Your Eyesight
 Vivek Singh Chauhan
Oranges not only strengthen bones but also protect eyesight. According to a new research conducted by a team of scientists in which an Indian origin scientist is included, the regular intake of Oranges, can reduce the risk of 'Macular degeneration (MD)' (a nasty form of sight loss) up to 60 percent.
In this disease, Macula which is the central part of retina, starts deteriorating and tiny spots can be seen on it when degeneration takes place. But unfortunately, the exact cause of its degeneration is yet to be known. Those having the condition become unable to see what is in right front of them. In most of the cases, the signs of the condition appear when people are in their 50s and 60s.
This study was conducted on 2,037 individuals aged 50 and above, who were asked about their dietary habits and after one and half decade, a follow up was taken which suggests that  those who have reported eating oranges regularly, the  chances of disease in them, were significantly less.
The data collected by the researchers suggests that the health boost is caused by flavonoids in the fruits, chemicals that give fruits and vegetables their distinctive colours and can also be used as powerful antioxidants.
Dr. Poonam Tiwari, a dietician at Dr. Ram Manohar Lohia Institute, Lucknow said, "To prevent macular degeneration, we should make  vitamin C and Zinc as regular part of our diet whether it come from oranges or from any other source. Vitamin C consist the combination of various antioxidants that is important to stop degeneration. If citrus and non-citrus fruits like guava, Indian gooseberry, oranges and papaya which are rich in antioxidants, are taken regularly then definitely the chances of disease prevention, will be high.
ALSO READ: No food and home for Jatayu!
"By eating seasonal fruits and multi grain sprouts, people can protect their eyes from any related disease." she added.
Age-related macular degeneration (ARMD) accounts for 8.7% of the total blindness globally, and is the third common cause of visual impairment in the world. The persons with ARMD are likely to increase from three to six million by the year 2020, according to Indian Journal of Ophthalmology.
"Although degeneration of macula cannot be cured but the rate of degeneration can be slowed down through medical procedures, hence early detection is important," said Dr. Sanjeev Gupta, an ophthalmologist at Balrampur Hospital, Lucknow."As the severity of disease increases, its detention possibilities go down and sometimes situation becomes uncontrollable," He added.
Further, he said that the number of macular degeneration cases, is growing rapidly as usually people don't go for an eye checkup, hence many of these cases remain undetected. High blood pressure, stress and hyper-tension might also be responsible for this unusual number growth.
As yet there's no cure, but perhaps oranges and other citrus fruits will one day form the basis of a preventative treatment.
Dr. Ravi Bhatia, an eye specialist at the Raebareli based 'Sitapur Eye Hospital' said, "Patient of macular degeneration becomes partially blind and gradually the blindness escalates with the severity of the condition."
"Wet and dry are the two types of it and 90 percent patients are suffering from dry type. Only 10 percent cases are of wet. As exact reason is not known, yet it is supposed that dry macular degeneration comes with the age, because of drying of natural greasy liquid present in eyes. Whereas wet form of the disease is caused by excess of contaminated greasy liquid present in the eyes of patient," he added.
Pointing out the importance of research about this wide spread eye disorder he said, "As there is very little information available about the problem, so more research needed to determine the exact cause of it and hence it can be cured in near future."
Further research will be required to get to the root causes of macular degeneration – the biological and non-biological factors that cause our eyes to fail in this specific and damaging way. Till then, eating oranges and other vitamin C rich foods could prevent us from getting in the clinches of this wide spreading threat.