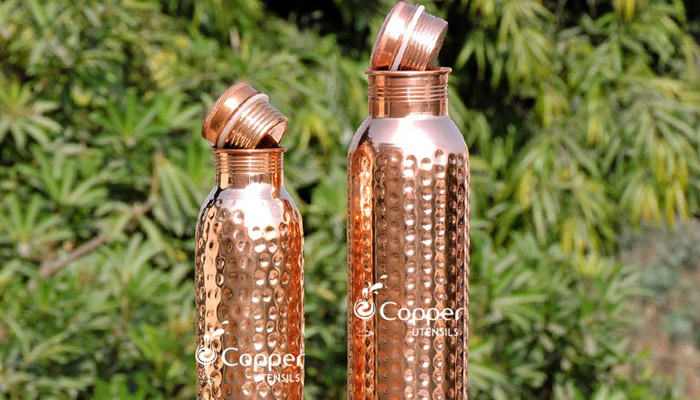 Consume water from copper bottle and enhance your health
Lucknow: Ever wondered why our grandparents and ancestors suggest water from copper cup? This is because copper is one of the metals that contribute to various health benefits and is the cheapest solution to clean water. The easiest way to obtain the best benefits from the metal is to fill water in a copper cup, leave it overnight and drink it the very next morning.
Consuming the water from a copper vessel will keep you fresh and free from harmful bacteria that can deteriorate your health. Drinking water from it twice or thrice a day is more than sufficient to reap the best benefits. Here are few benefits of drinking water from the copper vessel.
ALSO READ: Consuming orange seeds will not develop into trees but will benefit you
Anti-Micro bacterial: Copper is one of the anti-micro bacteria agents that can kill the bacteria in the water. A study says that 97% bacteria in ICU can be killed due to copper surfaces in the room and fight off bacteria can lower the risk of digestive problems. It is known to prevent water-borne disease like diarrhea, dysentery and jaundice.
Improves digestive system: Like I said copper can kill harmful bacteria effectively, especially a bacterium named E Coli which can harm the digestive system, is killed. It helps to improve digestive system. Copper reduce inflammation and is an effective remedy for ulcers and indigestion. It also helps clean and detox the stomach, regulates the working of liver and kidneys and absorbs nutrients from food.
Helps losing weight: Most of you would want to lose weight without sweating and drinking water from copper vessel can do wonders in helping you lose weight in a healthy manner. Drinking water from copper vessel can smoothen the food processing which makes it easier for the body to absorb the nutrients. It also helps in burning body fat which eliminates unhealthy fat resulting in loss of body weight and only the productive fats will be turned into energy.
ALSO READ: Six reasons why you should include green tea in your daily diet
Prevents Cancer: Cancer-causing agents and unhygienic eating habit can develop cancer. Copper has strong antioxidant properties that help fight off the cancer-causing agents and radicals to stay away from the body. Some studies have proven that copper complexes can fight off cancer-causing agents.
Improves the work of thyroid gland: Most common problem with people diagnosed with thyroid disease is that they have low levels of copper. It is most commonly seen in people suffering from hyperthyroidism and hypothyroidism. One of the main advantages of drinking water from copper benefits you have sufficient copper that body requires which can help you keep thyroid at bay. It can trace the minerals that the thyroid gland needs to function normally.
Improves Skin Health: Copper is a vital substance needed in melanin production in the body and regenerates new cells. Melanin is important to reduce hyper pigmentation and new cells replenish the top layer of your skin. Both the functions rejuvenate and improves the health of the skin. It is said that drinking water from copper vessel on a regular basis can make your skin fresh, heal damaged skin and also cover up scars! It gives you a clear and blemish-free skin.
ALSO READ: Eat Oranges To Save Your Eyesight