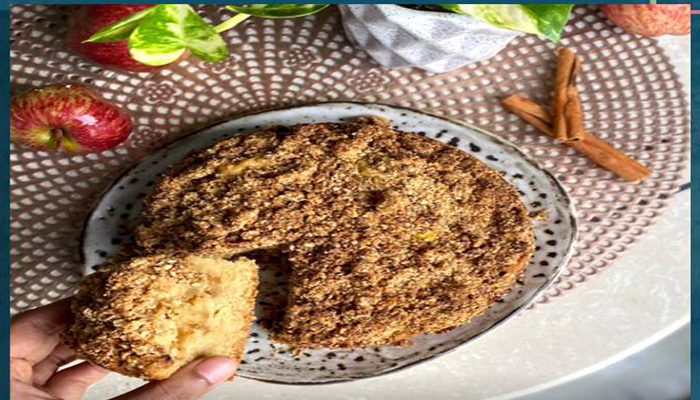 Enjoy Your Favourite IPL Match with this delicious apple crumble (Instagram/ Kirti Bhoutika)
Who doesn't like a bit of sweetness to their tea time? Taste this apple crumble today! Many of us love to indulge in sweets, but at the same time wish they were healthy. So how about adding more recipes to our list of homemade munchies and trying a healthy bake today?
If you like apples, you will definitely love the apple crumble cake, says chef Kirti Bhoutika. She recently shared the recipe on her Instagram.
This is what she said: "Moist and bursting with apple flavour, one of the best tea cakes ever. It has three different textures and a burst of flavours."
Apple Crumble Cake
Required Ingredients
For caramelised apples
4 – Apples, 3 tbsp – Sugar, Pinch of salt
1 tsp – Cinnamon powder and Juice of ½ lemon
ALSO READ: Try this easy DIY, organic hair pack with your favourite brew
For crumble topping
½ cup – Oats and ¼ cup – Whole wheat flour or aata
1 tsp – Vanilla essence, Pinch of salt
Pinch of cinnamon, 30g – Butter
3 tbsp – Sugar and Also, 3 tbsp – Almonds
ALSO READ: Here's the Foods that will help control appetite and reduce belly fat
For the cake
80g – Powdered sugar
100g – Butter (melted) and ½ cup – Curd
1½ tsp – Vanilla and 1½ tsp – Baking powder
½ tsp – Baking soda and ½ cup – Whole wheat flour or atta
½ cup – Refined flour or maida and 1 tbsp – Cornflour, ½ cup – Milk
ALSO READ: Cheer Your Favourite IPL Team with this cup of hot chocolate
Method
To Caramelise apples
In a pan, put cut apples. Then add sugar, a pinch of salt, cinnamon powder and lemon juice. Cook for three-four minutes. Make sure you don't overcook the apples.
For crumble
In a mixer, add oats, whole wheat flour, butter, cinnamon, vanilla essence, salt, sugar and almonds. Grind to a fine powder.
For the cake
Take melted butter, add powdered sugar, curd, vanilla essence and whisk. Sieve the dry ingredients and add to the mix. Add milk and whisk.
Grease a cake tin and line it with butter paper. Add a layer of the cake mix, then add caramelised apples and then add the cake mix again followed by the caramelised apples. Top the apple layer with the prepared crumble mix.
Bake in a preheated oven at 170 degrees for 40-45 minutes or till done.
Cool it down completely.
ALSO READ: Dessert Recipe: Cheer Your Favourite IPL Team with this special Recipe
So, when are you going to try it out?
ALSO READ: Are you constantly feeling tired? Have this easy-to-make energy drink
Keep yourself updated with latest news through Newstrack App. To download App from Google Playstore visit here - Newstrack App