5 Gadgets that will make your kitchen life much easier
Lucknow: Gadgets have become an essential part to lead a life. They are now more a necessity than that of luxury. And, while everyone is dealing life with gadgets, why should our housewives stay away from it.
Either working or a homemaker, most of the time of a woman's day is spent in kitchen doing hell lot of activities.
Check out these gadgets that will make your kitchen work a fun job...!
Digital Volumetric Spoon Scale
A handy scale that provides instant measurement of weight of spices, oil or flour. It also tells the volume of milk, wine, syrup or water.
It allows you to measure the weight up to 3000g/105.8-ounce and the measurement could be read on the LCD read out. It also has detachable spoon for easy cleaning.
Also Read: 10 photos of Priya Prakash that prove she is worth all the popularity!
Time Locking Container
Want your kid to stay away from unhealthy stuff? Then this gadget is just for you mommies. You just have to place the item in the container, set the time and press the lock button. No one will then be able to unlock the container until the time runs out.
Umbra Ispoon
The product has been designed by Jordan Murphy for Umbra- original. It is a modern, casual, functional and affordable design for the home. It helps in navigating recipes on tablet so that the gadget doesn't get dirty with our hands and we can continue work while searching the new cooking tips. Made of wood and rubber, the Ispoon measures 7-1/4 inches by 1-1/2 inches.
You may also Read: Fun Alert! 10 Indian tweets that will make you go ROFL
Halo Heating Spoon
We all like beverages hot, right? But, sometimes work keeps us so busy that our soup, tea of coffee do get cold and it just tastes like yukk... The 'Halo heating spoon' help prevent this torcher to our taste buds. It helps in keeping the beverages warm with its temperature indicative LED glow over the handle.
The Fat Magnet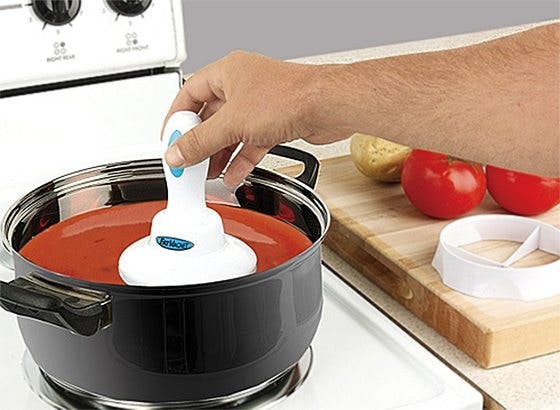 Wanna eat tasty, but cant afford gaining kilos? Go for 'The fat magnet' then. It is the most loved tool if you have it. Believe it or not but the magnet helps in removing extra fat from your food. Fat Magnet absorbs the fat floating on the surface of foods, making meals healthier by removing all the unnecessary fat, cholesterol and calories.
The kitchen area could be a lot more less tiring and fun zone with these gadgets and many more like them.