Yoga Day : Make yoga part of your life, urges PM Modi
Chandigarh: Prime Minister Narendra Modi on Tuesday reached the Capitol Complex in Chandigarh to lead the yoga day celebrations on the International Yoga Day. In his address to the nation, he urged people to include Yoga in daily routine.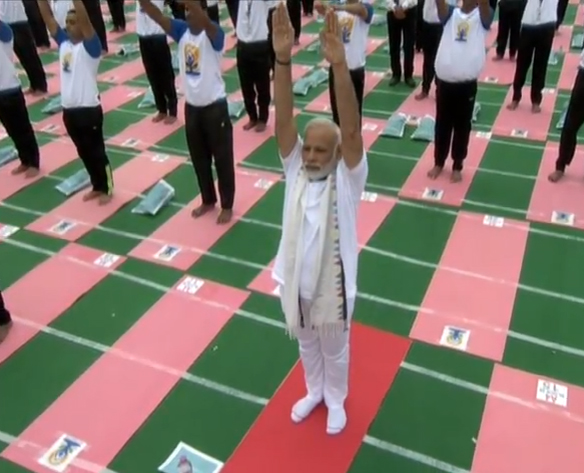 Nearly 30,000 people - 10,000 each from Chandigarh, Punjab and Haryana have participated to perform yoga exercises along with PM Modi.
Watch PM Modi Live from Chandigarh:
Excerpts from Modi's Address:
• At present, in all parts of the nation people have been connected to Yoga: PM
• The world supported the idea of International Day of Yoga. All sections of society came together in this endeavour
• June 21 was picked as International Yoga Day on India's request. It is the longest day as Earth is closest to Sun
• Yoga is not just about what one will get, it is about what one can give up
• Make Yoga your habit. Include it in your routine
• Yoga does not discriminate between rich and poor
• Gynaecologist suggests Yoga during pregnancy
• Let's make Yoga more popular globally. Let India produce good Yoga teachers
• Yoga gives us health assurance at zero budget