Uttar Pradesh bureaucracy is feeling sudden change in weather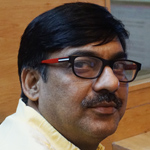 Sanjay Bhatnagar
Lucknow: Contrary to 'soft' demeanour of his predecessor Alok Ranjan, the new chief secretary Deepak Singhal's aggressive style is giving sleepless nights to officers of all cadres and seniority.
To many, he looks like a man in a hurry losing no time to reminding the erring and lax officials to mend their ways or else face the music. Immediately after he took over, Singhal got into the act starting from Home, Power, Finance and Secretariat Administration departments directing them to not only take up their tasks but look like they are doing for the cause of the last beneficiary.
Displaying his 'no hold barred ' attitude, he told the UP Power Corporation that the performance would be judged on the basis of the person sitting in a remote village. It is significant considering that the Chief Minister himself had showered praise on the functioning of power department and the Managing Director of UPPCL always presented himself as very 'close' to the former.
Similarly, the Principal Secretary, Finance Rahul Bhatnagar was also in the firing line when he was told to release the money for developmental projects in an earnest manner. The secretary of important Sachivalay Prashan Department( SAD) Ajay Kumar Upadhaya was also asked to change his otherwise slow style of functioning.
The UP Chief Secretary, who accompanied the Chief Minister Akhilesh Yadav on visit to Shravasti on Friday, was his fiery best when he reprimanded District Magistrate Nitish Kumar and SP Hemant Kutiyar from the dais for not meeting the public. He took a broadside at other departmental officers as well warning him of dire consequences if they failed to change their functionalities.

Also read:
BJP's Halla Bol rally turned out to be a 'selfie' occasion