Small village in Malihabad partially boycotts polling to mark protest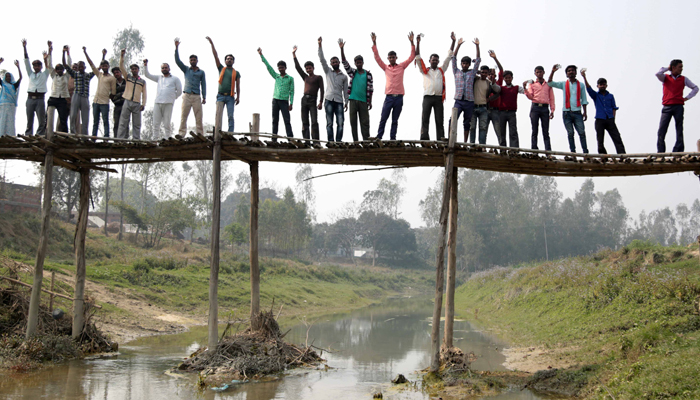 Lucknow: Amidst roar of highest ever poll participation in capital city of Uttar Pradesh, there lies a small village, Birahimpur, where a majority of electorate gave a cold shoulder to polling in the third phase of UP Assembly Polls on Sunday for want of a small bridge.
People of Birahmipur in Malihabad assembly constituency, about 30kms from the state capital Lucknow, boycotted the polling till 2.00 pm in support of their long-pending demand of an over bridge, the absence of which force them to risk their lives everyday.
As a face saving exercise, the police and administrative officials visited the village and urged the people to vote. Fortunately, they convinced them but only 15 out of 5400 voters exercised their franchise.
The root cause of the boycott was a shaky wooden bridge over a canal which mocks the Samajwadi Party's "Kaam Bolta Hai" slogan and government claims of development.
The 50-year-old bridge collapses in almost every rainy season and the concern authorities pay no heed to either re-construct it or augment it with cement structure.
One of the villagers said, "We received assurance by various party governments in the past but nothing happened till date. We have boycotted the polling as a mark of protest."
When newstrack.com reached the spot at 2.00 pm, no single vote was cast. Election Commission officials, however, tried to persuade people but their persuasion was only partially successful.
See Photos in Slides: