Siksha Mitras block major routes | Sec 144 imposed in Lucknow
Lucknow: Unaffected by imposition of Section 144 (Unlawful Assembly act), over thousands of Siksha Mitras launched the protest in the capital city of Uttar Pradesh leading to failure of traffic system in the entire city.
Named as 'Satyagrah Andolan' the protest has been launched by Siksha Mitras who are upset over the indifferent attitude of the UP government on the adjustment of siksha mitras as assistant teachers in state-run primary schools
Launched from state capital's Laxman Mela ground, the protest will continue until the state government initiates favourable measures to reappoint shiksha mitras as assistant teachers in primary schools.
Also Read: Come together to make India a world leader: 'Super 30' founder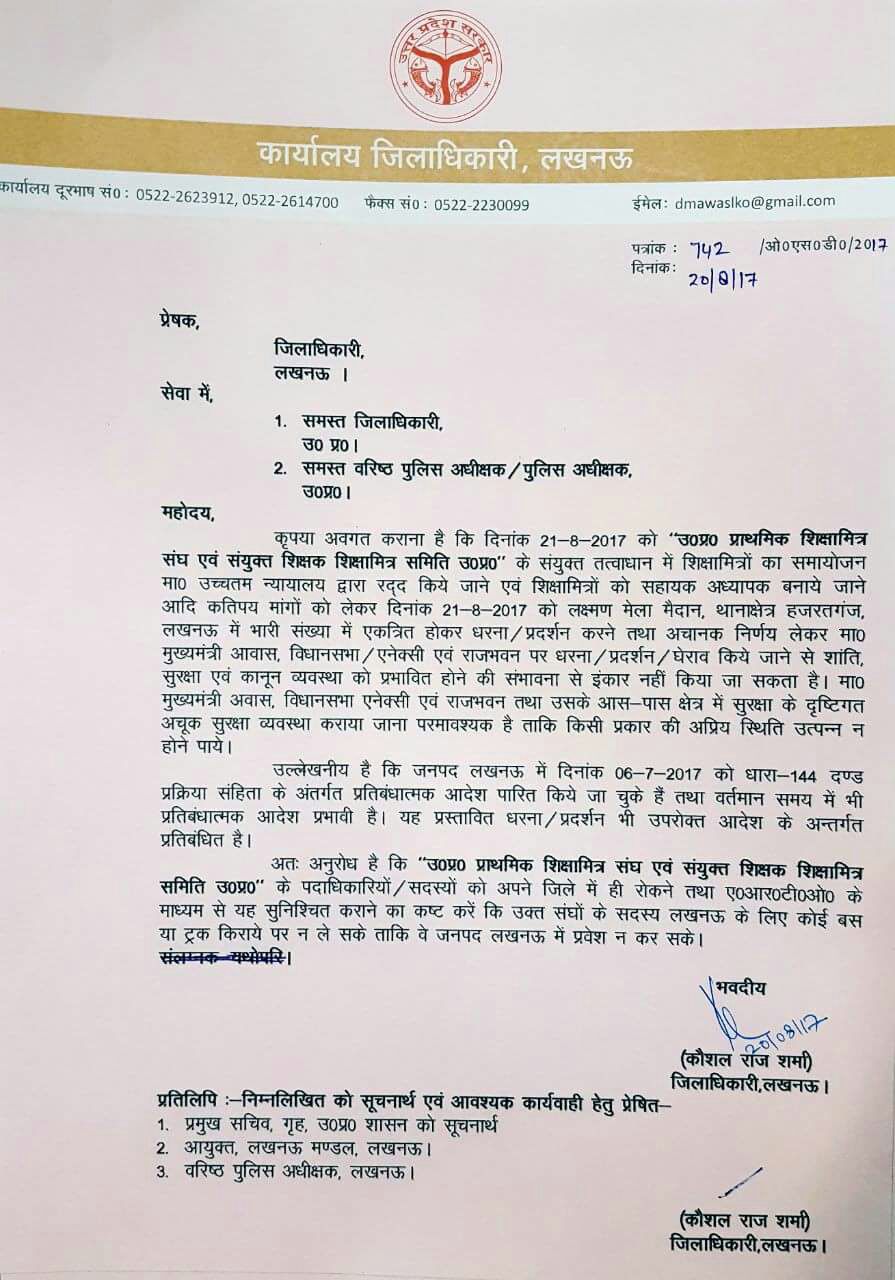 The administration, however, has imposed section 144 in Lucknow which means no gathering could be conducted in the city. Instructions regarding the imposition were given on Sunday last but the entire arrangement collapsed in front of the huge gathering which also resulted in blockade at major routes of the here.
Commuters stuck in the traffic jams have said that not even the ambulances are able to reach their destination timely.
Secretary of Adarsh Samayojit Sikshak Welfare Association, Vishwanath Singh Kushwaha said, "This decision was taken as the Yogi government did not take any appropriate steps to resolve the issue."
The Siksha Mitras have alleged that the Uttar Pradesh government was deliberately delaying the matter as it was planning to cut down 70 per cent of them from the teaching job.
You may also Read: Traffic restored on UP's Meerut-Muzaffarnagar rail section
State vice president of Prathamik Shiksha mitra Sangh Rajesh Sahani said the indifferent attitude of state government has put a question mark on the future of these teachers. "All shiksha mitra associations in the state have been asked to assemble in Lucknow on August 21," he further added.
It is to be mentioned that the Supreme Court had on July 25, 2017 quashed the appointment of 1.78 lakh shiksha mitras of the state who were absorbed as assistant teachers in primary schools for not holding adequate qualifications.
In slides ahead: Check out the pictures....