Joint Press Conference: Rahul praised Mayawati in Akhilesh's presence 
Lucknow: Congress Vice President Rahul Gandhi had a word or two of appreciation to say about BSP supremo Mayawati much to the discomfiture of Uttar Pradesh Chief Minister Akhilesh Yadav who was sharing the dais with the former here on Sunday.
Addressing a joint press conference with Akhilesh, the first after pre-poll alliance between the Samajhwadi Party and Congress was formalised, Rahul sought to make it clear that country feared nothing from Mayawati or her party as it did with Narendra Modi or BJP. The praise for his bete noire made Akhilesh slightly uncomfortable though Rahul had remarked about her while comparing BSP and BJP. Rahul also said that "I personally respect BSP supremo Mayawati and Kanshiram.''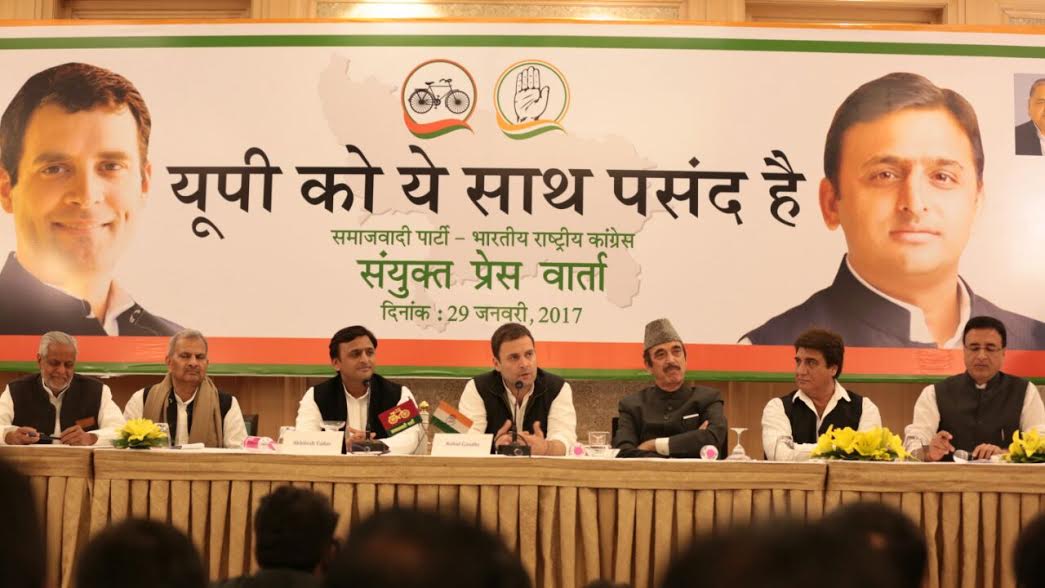 Both the young leaders were addressing the press conference before they embarked upon a joint road show in the state capital which marked the launching of their combined election campaign for UP assembly elections 2017.
Rahul sought to make it clear that while the ideology of the Bharatiya Janata Party was based upon mutual hatred and communal disharmony, Mayawati-led BSP posed no such problem. Whatever he meant to say but the body language of Akhilesh suggested that he did not like the idea of praising Mayawati in any way and that too at the platform where the SP-Congress alliance was being stamped further.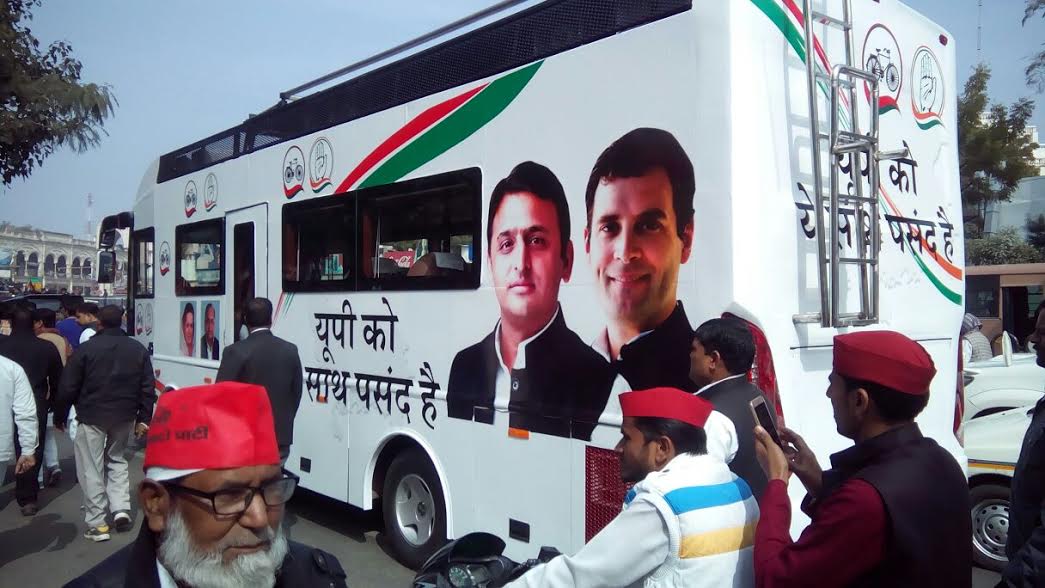 Both the leaders , particularly Rahul, parried the questions as what prompted his party to forge alliance as the slogan of the Congress '27 Saal , UP Behaal' had an aspersion on the poor governance of SP which had ruled the state for over a decade out of these 27 years. The alliance will strengthen the Uttar Pradesh and will bring brotherhood in the state, Rahul stated while trying to bring home the point that she shared personal bond with Akhilesh and the alliance is like confluence of Ganga and Yamuna out of which Saraswati of development will come out.
Admitting that both the parties had to make certain compromises, they said '' it was necessary to have an alliance to end hate politics in Uttar Pradesh.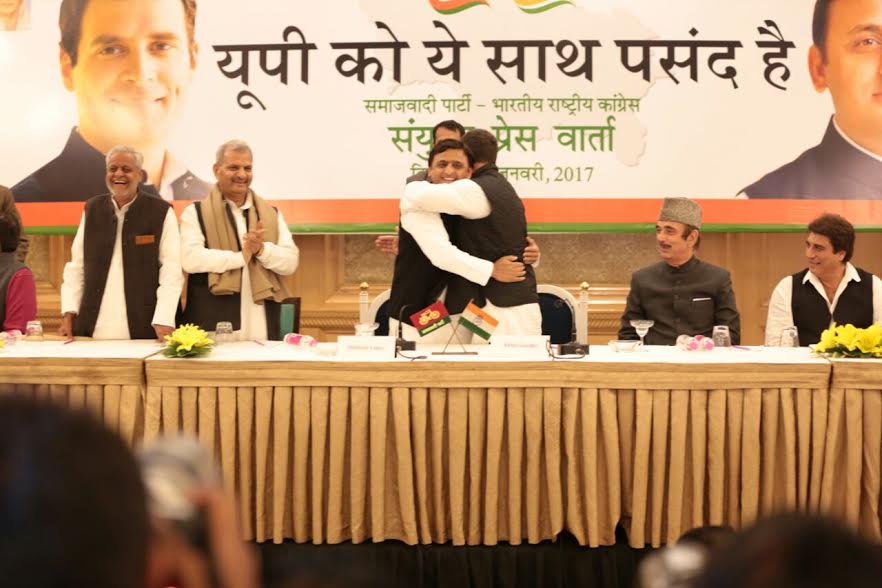 What else Akhilesh Yadav said?
This alliance will answer those who made the nation stand in queues.

Rahul Gandhi and I are two wheels of a cycle.

We have got an opportunity to work together.

We will surely form government wth over 300 seats.

The speed of cycle will be increased as cycle has now got hands.

We both are of same age hence jell well.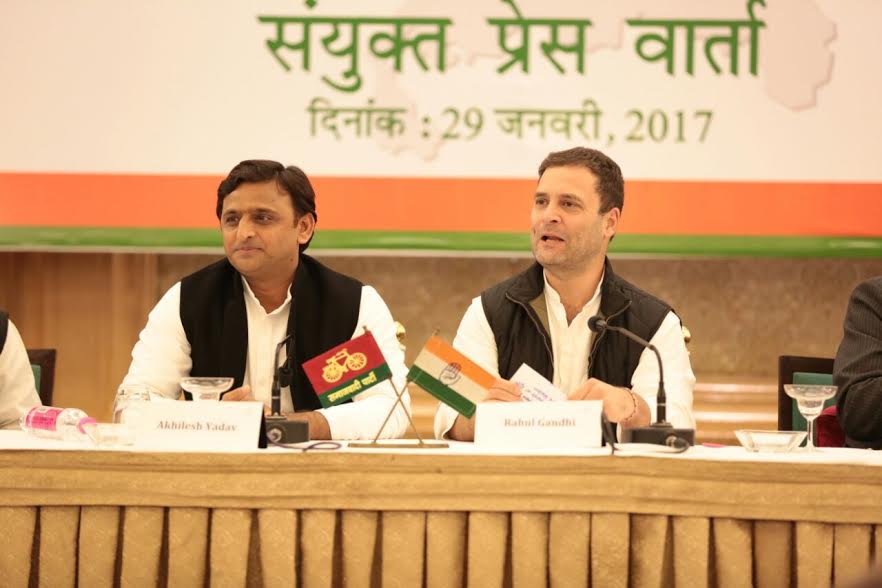 What else Rahul Gandhi said?
We want to give the youth a new option of governance by this alliance.

Our alliance is about progress, prosperity and peace

Bharatiya Janata Party failed to do development.

We have to outclass the ideology of RSS and BJP.

UP will give befitting reply to those who plays politics of division.

We are set to show the spirit of UP by defeating BJP.

This is a historical alliance.

This is not an opportunistic alliance. This is an alliance of love

We will tell BJP that UP is united and we will not let saffron party to play its politics of division.

We will try to transform the face of the country through this alliance

Akhilesh government went through a bad phase. Every government has drawbacks.

The intentions of Akhilesh Yadav are good.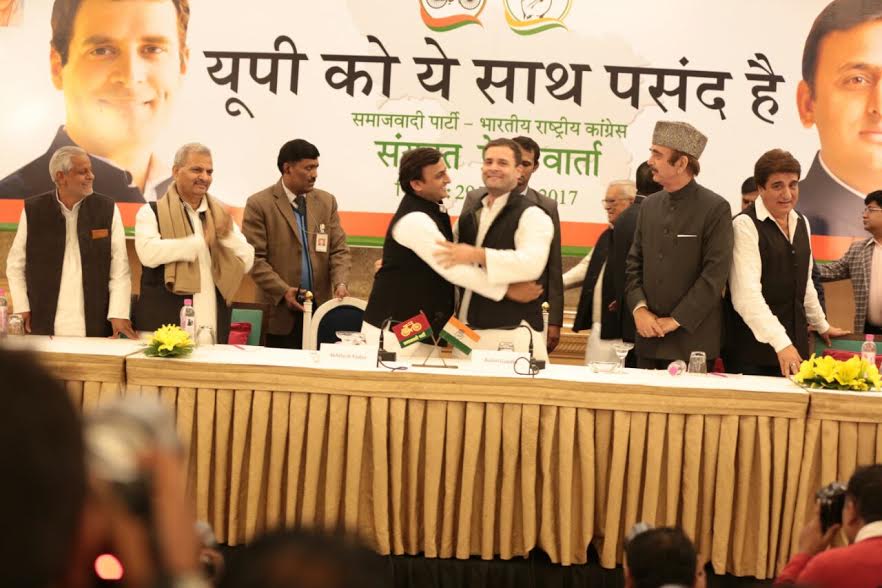 On Sonia, Priyanka and Mulayam
Rahul Gandhi said he would not disclose the campaign strategy when if Congress President Sonia Gandhi and Mulayam Singh Yadav will campaign,

"Priyanka has been of tremendous help to me. Whether she campaigns or not, its her choice. She is an asset to Congress," he added.
Visit next slide for more pics: