News Impact: VK Singh takes note of man held abroad on fake charges 
Fatehpur: Making an emotional appeal ahead of the Rakhi festivity, the sister of Dharmendra Kumar, who is in the Saudi Arabian jail from past four years, has urged the Foreign Minister Sushma Swaraj to help her out in his release.
Family claims that Dharmendra is facing imprisonment for a crime not committed by him.
The family has now hopes from Sushma Swaraj that she will take steps regarding Dharmendra's return. His sister Shivani wants to tie Rakhi on the pious occasion of Raksha Bandhan.
What is the case?
Dharmendra, who is a resident of Mahoi village in Fatehpur, went Saudi Arabia in 2011 in search of job.

According to the family members, Dharmendra started working as a driver along with a Pakistani driver Javed.

In 2012, Javed's car mowed down two people.

Police arrested him for the crime and was sent behind the bars.

Javed was later released and Dharmendra was imprisoned on his place.
Family said that matter came into their light three years later after Dharmendra's phone call. It added that they have made every possible attempt regarding the release of Dharamendra but they are just getting false assurances.
General VK Singh, however, noticed Newstrack.com campaign 'Operation Rakhi' and sought for more information regarding the case. The details about Dharmendra have been conveyed to him.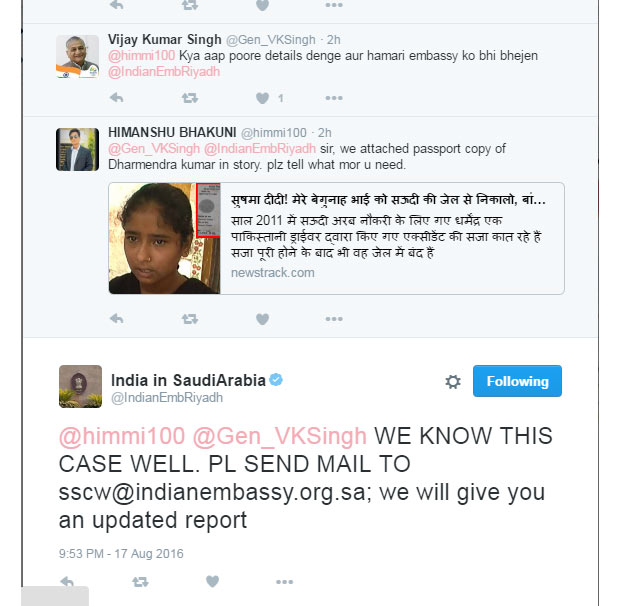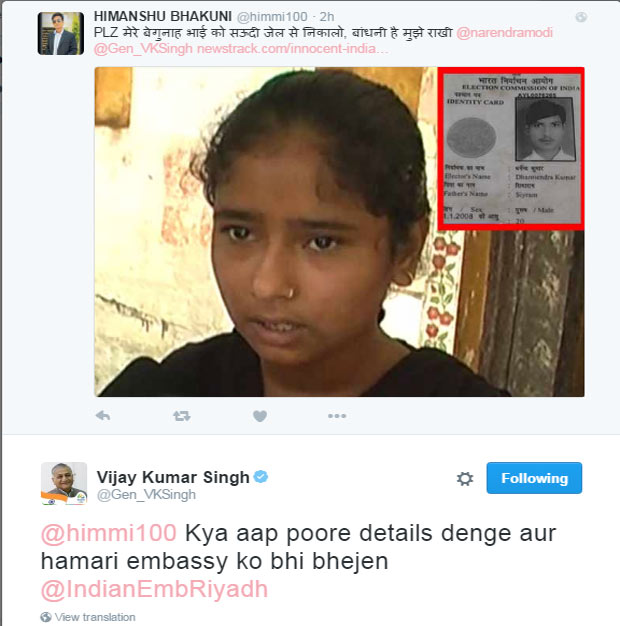 Also read: Congress to launch second phase poll campaign in UP from Aug 21