New Congress Chief Rahul receives a shocker; effigy burnt in Amethi
Amethi: The enraged farmers here on Tuesday burnt effigy of newly elected Congress National President Rahul Gandhi, asking him to return their lands which were occupied by Rajiv Gandhi Charitable Trust.
The farmers of Gauriganj, whose lands were occupied to establish Samrat cycle factory here, also raised slogans 'Rahul Gandhi murdabad' and 'Rahul Gandhi sharm karo, kisano ki zameen vaapas karo'.
Speaking over the issue, a farmer said, "Our lands have been occupied by Rajiv Gandhi Charitable Trust which is owned by the Congress chief. If Rahul Gandhi truly is a well-wisher of the farmers, he will return our lands."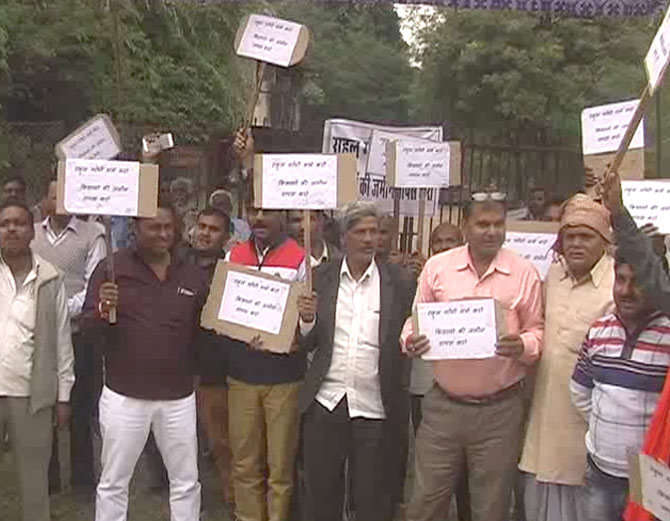 "The factory has been shut for years. Neither did we get employment nor our land," the farmer added.
The plight of the farmers:
A total of 65.57 acre land in the industrial area of Kauhar was acquired by UPSIDC in 1984 on the orders from then Prime Minister Rajiv Gandhi.

A total of 192 families had to give away their lands for establishment of a cycle factory in the region.

The contract to run the factory was given to Jain Brothers.

The farmers were given jobs in the factory.

But the factory could only run for two years, consequently leaving the farmers jobless.

The farmers whose lands were acquired are left to die to starvation, claims a farmer.
Also Read: Congress confident of forming government in Gujarat: Rahul
SDM had promised to return the lands:
SDM had ordered UPSIDC to return the lands of farmers after the closure of the factory.

As per the documents, on August 8, 1986, 65.57 acre land was given to Samrat Bicycle on lease.

But when the factory got closed, DRT sold it out on February 24, 2014 to recover the loan.

The land was purchased by Rajiv Gandhi Charitable Trust and it had also paid the stamp duty of Rs 1,00,05,000.

UPSIDC, however, later declared the auction of the land illegal.

The case went to the Gauriganj SDM court which ordered to return the factory's land to UPSIDC.
The Congress district chief Yogendra Mishra, however, claims, "Rajiv Gandhi Trust acquired the land lawfully by participating in the auction." He alleges that if any irregularity has been practiced in the process, only UPSIDC, Amethi administration and Samrat Bicycle company are to be blamed