Mulayam –Akhilesh match stumped all including Shivpal in UP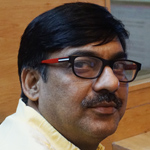 Sanjay Bhatnagar
Lucknow: Uttar Pradesh chief minister Akhilesh Yadav emerged as the winner in the 'friendly match' with his party where the umpire was Mulayam Singh Yadav who played more as his father rather than the party Chief.
It came as no surprise that whole exercise to announce merger of mafia-turned politician Mukhtar Ansari's Qaumi Ekta Dal(QED) into Samajwadi Party and then rescind the decision at Central Parliamentary Board as the idea was to reinstate the authority of Akhilesh ahead of assembly polls 2017.
This was further substantiated as the Board announced that the Akhilesh Yadav will take out 'rath yatra' before the polls, a replay of 2012 when astounding the rath , the young leader had all the expectations pinned on him specially after he had denied entry of another Mafia D P Yadav in the party. The game plan is similar so is the venue but the players on the other side are different.
A lot was being said about the depleted authority of Akhilesh who is presented as a 'majboor' chief minister rendered hapless in the political quagmire but that was not to be. He had an astute politician in Mulayam Singh Yadav as his father as well as the party chief.
ALSO READ
Not happy with unlce's decision on QED merger, says Akhilesh
SP Parliamentary board meeting: Akhilesh's wish fulfilled
Who knew that the announcement made by Shivpal Singh Yadav,the senior party leader and also brother of Mulayam, about merger of QED into SP would stand just for three days. Shivpal may have been consigned to embarrassment over the entire issue but the he should realize that Akhilesh is going to be party's face again in 2017 polls and his sagging image will have to resurrected even at the cost of anyone including his.
…and yes, not only Shivpal Singh Yadav but all the party men and people of the state should remember a cardinal saying that 'blood is always thicker than water' and also that Mulayam, the wrestler, had one 'Charkha Trick' too many in his armour for everyone.