Mob attacks police for laxity against alleged cow traders
Saharanpur: An enraged mob on Tuesday attacked a police post and torched several vehicles over inaction against cow traders at Malhipur village in Rampur.
The security was beefed up in the area with the police resorting to lathicharge to control the violent mob.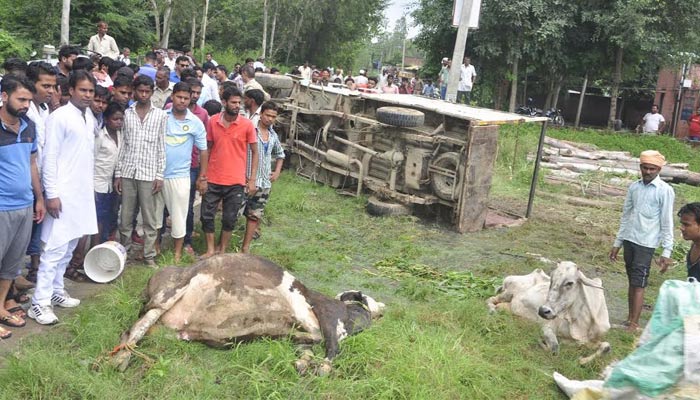 The matter-
The whole mishap begins when the residents of village Malhipur, which is located near Maniharan area of Rampur, got a tip off regarding a suspicious vehicle carrying cows for smuggling.

The vehicle was stopped by irked villagers who gave the custody of two people to the police.

Inside the vehicle, there were two cows; one dead and one alive.

Village people accused police of shielding those involved in cow trading.

A group of people protested outside the Kotwali Rampur located at Maniharan area.

Situation worsened after protesters turn violent.
Kotwali Rampur SP Dehat Jagdish, however, said, "Now the condition is completely normal and the investigation against cow vigilantes is under process."
Also read: Mulayam-Amitabh Case: CJM court orders scrutiny of taped phone call