Kanpur RTO issues licence to suspected terrorist; RTI filed
New Delhi: Kanpur Regional Transport Office (RTO's) negligence was unearthed when a citizen from Jordan, Adnan Ali, a suspected terrorist, was issued a permanent driving licence on fake certificates. An RTI was filed seeking reply from the home ministry over the laxity in the case.
In its reply, Home Ministry said that it has forwarded the copy of RTI to the principal Secretary (Home) of all the states and sought a reply from them. The RTI was filed by a senior advocate Vijay Bakshi.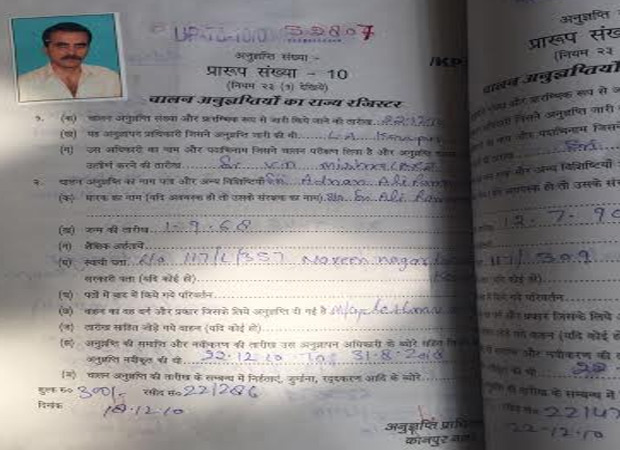 <strong>STF arrested Adnan Ali in 2002</strong>
On January 5, 2002, Adnan Ali, a resident of Jordan's Jaki area, was arrested by STF from Lucknow's Munshipuliya area. He was accompanied by his two members who were also arrested. STF had claimed Adnan came to India in the year 1993 and several important documents were seized from him after his arrest.
Adnan was later granted bail but the court restricted him from leaving the country. He later got married in Kanpur. Adnan has got a permanent driving licence and PAN card which were made on fake certificates.
<strong>What Vijay Bakshi asked in RTI?</strong>
Name of the concern officer who is given responsibility to keep a watch over Adnan Ali and associates in Lucknow and Kanpur
In which areas inside the country they can stay under the Foreign Act?
Under what norms, a foreign national Adnan Ali got his PAN Card?
Does the Kanpur RTO authorized for making a permanent driving licence of a foreign national?
What actions have been taken against the concern officers under whom, Adnan Ali was issued driving licence and PAN Card.
Adnan Ali had several certificates from Indian educational universities. Did the Indian probe agencies grill those universities till date?