Gorakhpur deaths: Here's why Yogi govt is ignoring 'oxygen' chapter
Gorakhpur: Corruption or negligence? what killed over 60 children in the Baba Raghav Das Medical College hospital in past five days, still remains a mystery while the blame game is on in full swing.
The role of oxygen vendor - Pushpa Sales Pvt Limited, which supplies liquid oxygen to BRD Medical College Hospital in Gorakhpur, remained suspicious but newstrack.com has a copy of the letter which clearly shows that several reminders were sent to the hospital administration seeking clearance of the due payments.
The information gathered by newstrack sources claim that no raids have been conducted at the premises of the company and all such reports floating in the media are false.
Company sent at least seven reminders from February to August this year, asking the hospital to clear its pending dues amounting to over Rs 60,00,000 (sixty lakh) but the administration paid no heed.
In every letter, it was clearly mentioned, "We would be unable to continue supply in case of non-payment of dues. It would not be our responsibility."
The letters were sent by the company's sales manager in Gorakhpur, Deepankar Sharma.
Company also sent a legal notice to the hospital administration on July 31, but there was no response. On July 18, a copy of the letter was sent to the Gorakhpur district magistrate but no action was taken even then.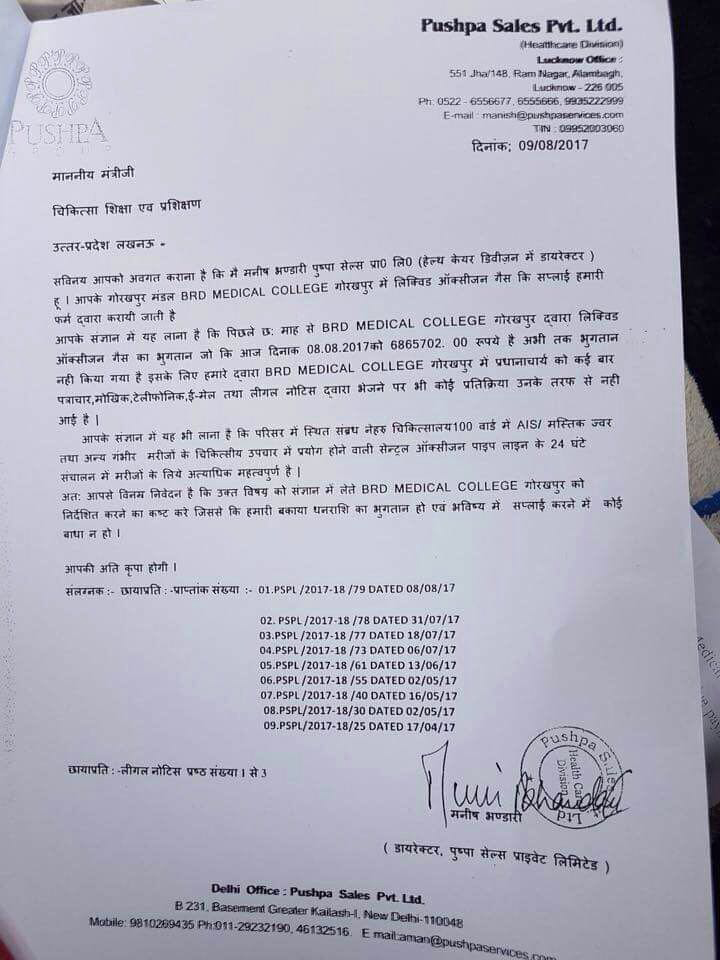 On August 9, 2017, a letter was sent to the UP Medical Education Minister by the Director of Pushpa Sales Private Limited, Manish Bhandari, in which the details about the due amount and the need of oxygen supply in the hospital were clearly mentioned.
The letter said, "Several reminders have been sent through phone calls, e-mails, letters and even legal notices but no efforts have been taken to clear our dues. In such case, it would be difficult for us to continue the supply of oxygen in the hospital."
While media and the kins of the deceased children are reiterating that deaths occurred due to the lack of oxygen, the hospital administration and the state ministers are denying the role of oxygen in the tragedy.
According to Pushpa Sales, On Friday afternoon, after the deaths were reported, the hospital administration paid about Rs 20 lakh in hurry.
From hospital authorities to the state ministers and even the Chief Minister Yogi Adityanath, everyone down the line is denying the role of 'oxygen' in the deaths of the children. But why?
Disclaimer: Newstrack.com does not endorse the conduct of any company. We just want to present the fact right.