CM Yogi Adityanath feels the pulse of medical fraternity
Lucknow: Suggesting doctors to be sympathetic towards patients, Uttar Pradesh Chief Minister Yogi Adityanath warned them to shun private practice or face action.
On his first visit to King Gorge's Medical University (KGMU) after taking oath as UP CM, Yogi said, "I have come across a number of complaints that the government doctors do not come to the hospitals on time, making the patients wait for long hours. It happens consistently because they spend a lot of time at their private clinics. I want to make it clear that the current UP government will not tolerate any such habits and appropriate action will be taken against those found guilty."
"The private hospitals charge very inappropriately. A 'CT scan' which usually costs Rs 450 in government hospitals, is done for Rs 1,800 or more at the privately owned clinics. The doctors also recommend such clinics refusing to accept the reports of any other diagnostic centres. This should be stopped immediately," he added.
Also Read: Stampede at Ayodhya's Kanak Bhavan temple kills a woman, two injured
He, in his very famous style, criticised the junior doctors who misbehave with the attendants of the patients, saying, "Junior doctors often indulge in fights with patients' attendants. I have heard many times that the junior doctors form a gang and thrash the attendants. I appeal all such doctors to stop doing this and show some sympathy towards the patients who already are in grave pain."
He, however, also praised the KGMU doctors for attaining excellence in their departments.
"KGMU is one of the most prestigious medical institutions across Asia. The doctors, who educated here, are doing very well in their departments," said Yogi Adityanath.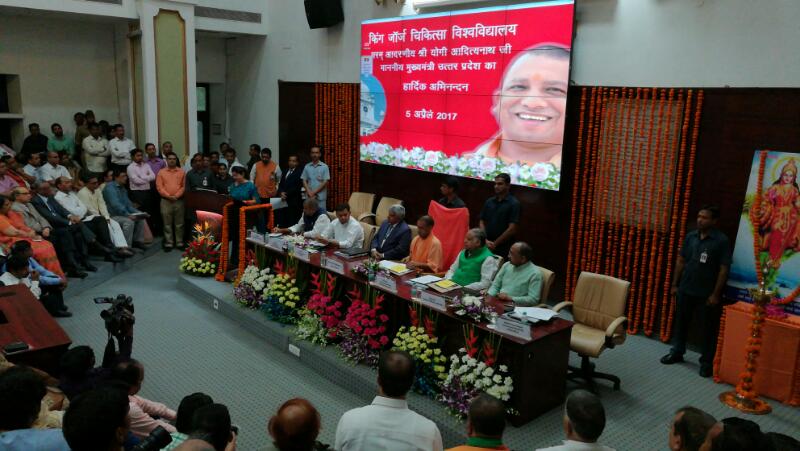 Yogi Adityanath praises KGMU and its doctors:
Before taking oath as UP CM, I visited Medanta hospital. There I saw that most of the doctors belonged to KGMU.

I am extremely happy that this institution is working really nice in the medical education sector.

I belong to eastern UP where most of the doctors hail from KGMU.

There is a shortage of five lakh doctors. We will work in this regard.

A few years back, a doctor was killed by some people in Gorakhpur. I was the MP from the district then. I demanded for the arrest of the culprits and soon they were killed in an encounter with the police.

Once a doctor was kidnapped. I sat on a hunger strike and soon the police found the doctor.

Balrampur and several other districts of the state are suffering from shortage of doctors.

I will work hard to ensure that medical facilities are provided to the last man of the state.

Several poor patients came here with hope of getting rid of their medical sufferings.

Their sufferings must be addressed.
After presenting 56 more ventilators to KGMU, Yogi advised the hospital staff to take proper care of the machines so that they last long. "We often here that there are a lot of machines but very few of them work properly. This is a kind of cheating with the people," he added.
What else Yogi Adityanath said?
We were informed about shortage of funds.

To tackle this problem, we need the detailed report of fund requirement before January 31, so that we could be able to include the expenses in the budget, which will from now onwards presented on February 1.

We have planned to launch 25 new medical collages in next five years.

We have been informed that several good and renowned doctors were sent to Kannauj and Saifai.

The previous Samajwadi Party government gave Gorakhpur two slaughterhouses.

We had asked the government to give us a medical college instead of the slaughterhouses.

I want to thank Prime Minister Narendra Modi for giving Gorakhpur an AIIMS.

We will fulfil all the promises made in our election manifesto.

I will ask Ashutosh Tondon ji to make sure that all the latest technologies are brought here to benefit the patients.

Doctors nowadays do not talk to the patients. I urge the doctors to interact with their patients.
What he said about Akhilesh Yadav's dream project 'Gomti Riverfront'?
A saw some fountains in the river, but the water smelled like dirty drain.

We are not able to keep our rivers clean.

Now necessary steps will be taken to clean Gomti river.