BJP Minority Cell surfaces poster of a missing lady mayor
Gorakhpur: Venting their grouse on the alleged non-performing Mayor, the Bharatiya Janata Party (BJP) Minority Cell workers have floated the posters of Mayor Dr Satya Pandey asking people to search for her.
"Mayor Dr Satya Pandey has gone missing and the person informing about her will get a cash prize of Rs 101," the posters say.
Agitated from Pandey, the BJP Alpsankhyak Morcha workers carried out procession and shouted slogans against her after attaching the posters across Gorakhpur district.
Agitation:
Party workers alleged Pandey for her careless attitude towards the wards as she was not going there to take stock of the conditions. The poster
The poster with the picture of Satya Pandey demands a CBI enquiry of developmental works done in all wards.
List of cleanliness employees to be given to the district magistrate.
Transfers of officers and workers who are posted in the same area for more than 20 years.
Solatium to the people killed in bull attack in the last years.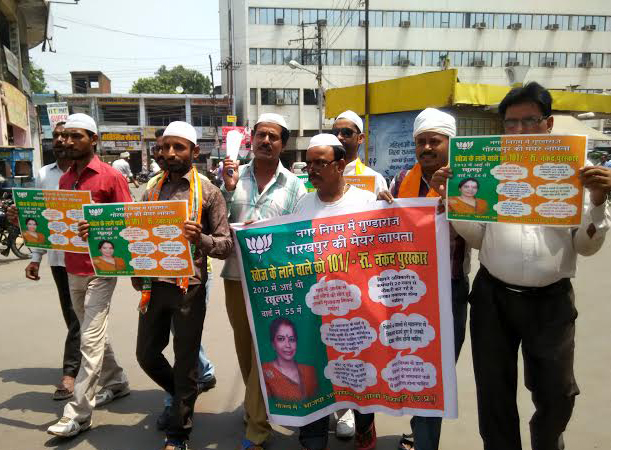 What party workers say?
Irfan Ahmad,a former member of the BJP Alpsankhyak Morcha says that, no matter is she is from BJP, the party workers will protest against it for not doing the work.