This 'beer' was just too 'hard' for the IPS couple of UP
Lucknow: Uttar Pradesh Chief Minister Yogi Adityanath on Monday sought clarification from his minister Swati Singh and Indian Police Service (IPS) couple of Uttar Pradesh over their visit to the inauguration ceremony of a beer bar here.
The IPS couple Gaurav Singh and Neha Pandey, posted as district SP of Raebareli and Unnao respectively had little idea of their presence at inauguration of a 'beer bar' would invite trouble for them. Leaving district headquarters without prior permission and going to a 'beer bar' left their superiors fuming who asked them to give 'explanation' for this conduct.
In the state where the CM is 'Yogi' and women are protesting against the liquor shops, a woman minister and a woman IPS officer had the audacity to inaugurate the beer bar.
Incidentally, the Uttar Pradesh minister Swati Singh was the chief guest on the occasion, taken place few days ago in the state capital, while both the officers were marked by their presence.
CM Yogi, through an official letter, has asked UP minister Swati Singh to explain the entire matter. He has also directed the IPS officers to submit their clarifications too.
Check the official letter here: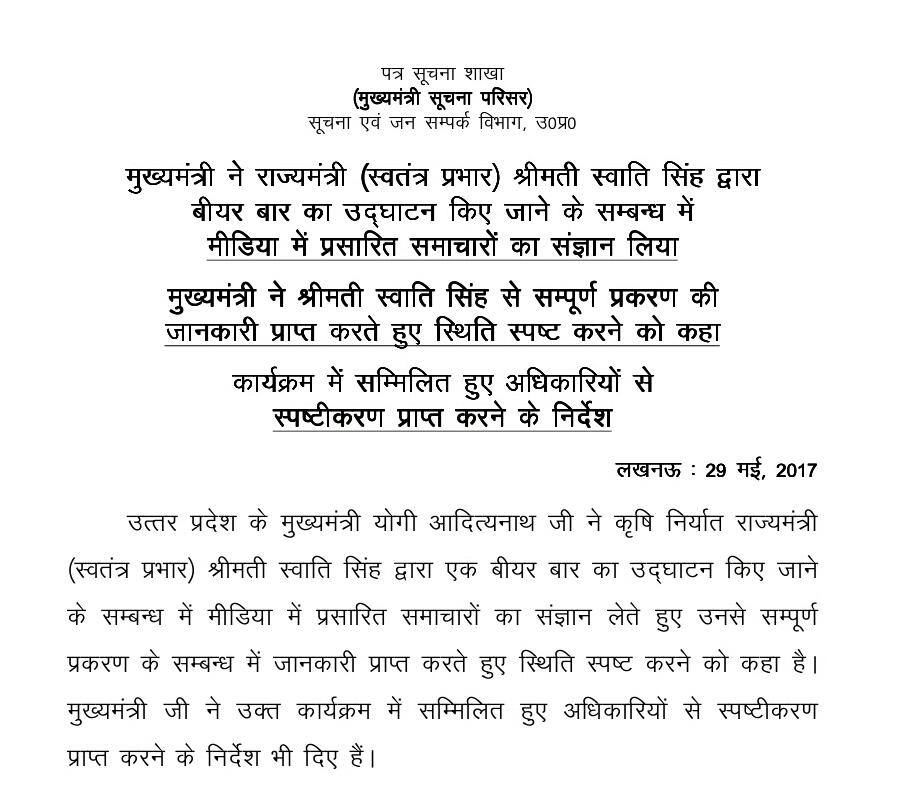 ALSO READ: CBI takes custody of ex-RJD MP Mohammed Shahabuddin
An official spokesman said, both the officers may have been posted in the districts adjacent to Lucknow but they should have taken prior permission specially when the law and order in the state has in for sharp criticism all over.
The reply to the notice to them from Inspector General of Police (IG), Lucknow range Jai Narayan Singh was not immediately known, though. "For politicians, it is a routine to inaugurate anything and everything, but, for serving IPS officers it is certainly a big NO", said another officer.
Uttar Pradesh Chief Minister Yogi Adityanath has sought an explanation from Swati Singh and police officers. UP CM has asked how they left headquarters without the permission of their immediate bosses. Both officers were marked present on duty when they were attending the bar inauguration.
Inspector General of Police - Lucknow J.N. Singh has sought an explanation from the officer couple.
While BJP spokespersons refused to comment on the matter, some even saying they were not aware of it, opposition parties have blasted the minister for her conduct.
Ajay Kumar Lallu, the Leader of the Congress Legislature Party in the state assembly, said the incident had further exposed the "double character of the BJP leaders".
IN SLIDES: PICTURES: