Azam Khan in hot waters; UP govt may order probe against him
Lucknow: Uttar Pradesh government may order probe against former UP minister Azam Khan, his wife Tazeem Fatima after the Central Waqf Council has levelled charges of 'Misuse of Office', Corruption and Alianation of Waqf Land in his native place Rampur.
The CWC , in its report, has mentioned several instances which amounted to serious offences and said the former UP minister had misused his office and forcefully grabbed the Waqf lands for his Jauhar University in Rampur.
Waqf Report said, "Immediate action must be taken by the Government (Central or state). All consequential actions, including agreements or leases granted to anyone should be immediately cancelled and declared void." The report further reads, "The matter should be referred to the CBI and to the anti-corruption bureau."
The report sought action against Azam Khan, his wife Tazeen Fatima, Waqf Board chairman Zufur Farooqui along with other beneficiaries. It may be mentioned that top Shia cleric Maulana Kalbe Jawad had put corruption allegations against Azam Khan in the sale and purchase of Waqf Board properties.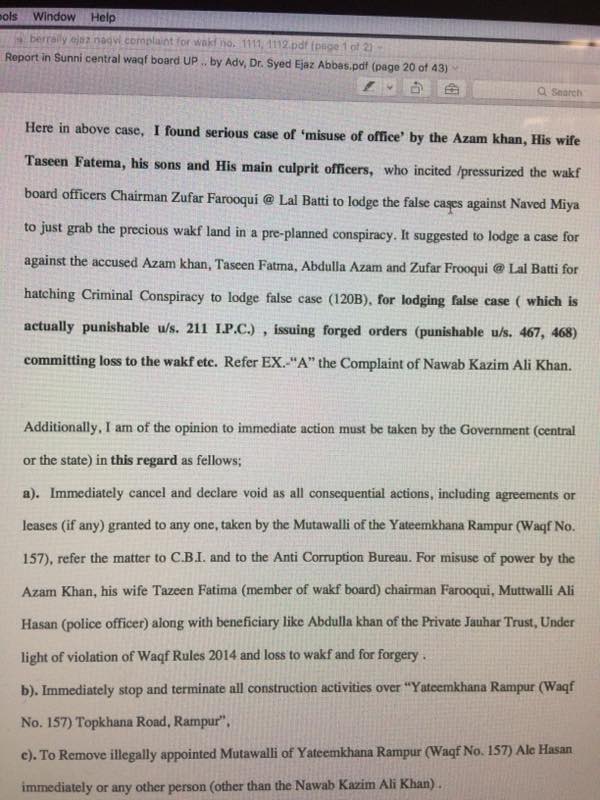 The report was furnished by Dr Syed Ejaz Abbas, the member of CWC, who had gone to rampur for spot survey. He submitted his report to the Chairman and Secretary of CWC.
Though the report has no direct bearing on the UP government but since the matter pertains to the state and involved corruption, the sources in the government indicate that there might be recommendation of CBI probe into the matter.
ALSO READ:
There have been a lot of complaints in the past about land grabbing in the course of construction of Jauhar University in Rampur.