Weather Today: Snowfall alert in hills, Clear sky in Haryana, Delhi, Rajasthan
New Delhi: Talking about the weather of North India, in the recent , western disturbances are continuing to come in a series manner. Because of this, the activities of the clouds have increased significantly. At present, the effect of clouds is visible only in the western Himalayan region. At the same time, talking about South India, due to the effect of a circulation which has formed near Maldives, dense clouds are visible over Tamil Nadu.
By the way, there are many such areas of South India where there is an effect of clouds. At present there is no weather system over Central India. Now we know where the weather activities will be across the country in the next 24 hours.
Weather Updates:
Today on February 14, the effect of clouds will be seen in the hilly areas, especially from Gilgit, Baltistan and Muzaffarabad to Ladakh and the northern areas of Jammu and Kashmir, Himachal Pradesh and Uttarakhand. Light rain is very likely over parts of north Jammu and Kashmir and Himachal Pradesh, as well as parts of Uttarakhand, including Srinagar and Gulmarg.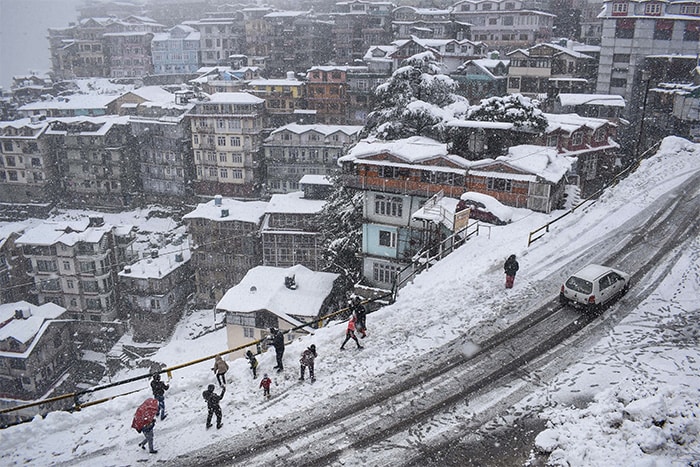 Here also the effect of Western Disturbance will be there, but very less. Now if we talk about the plains of the country, then Punjab, Haryana and Delhi, Rajasthan, then the wind direction will change from Monday. There is a lot of change in the weather.
Now the flow of cold winds is stopping in these areas. Because of this, there is a feeling of heat after being in the sun for a long time. But in the coming days, the weather will turn very fast again and we will get a change.
Clear weather in Uttar Pradesh:
The wind direction will change over most of the cities of Punjab, Haryana, Delhi, Rajasthan and West Uttar Pradesh. When cold air does not reach the plains, the temperature starts rising. Here too the temperature has started increasing. At the same time, the situation will also remain in the areas of East Uttar Pradesh, Bihar, Jharkhand and West Bengal. Here Lucknow, Kanpur, Barabanki, Ayodhya and Amethi, Rae Bareli, Sultanpur, Prayagraj, Mahoba, Chitrakoot, including Varanasi, Bhadohi, Sonbhadra, Mirzapur in all these parts, the effect of western direction is expected to remain till today.
Stay tuned with the newstrack to get fastest updates. Click @englishnewstrack to follow us on Facebook and @newstrackmedia to follow on Twitter.