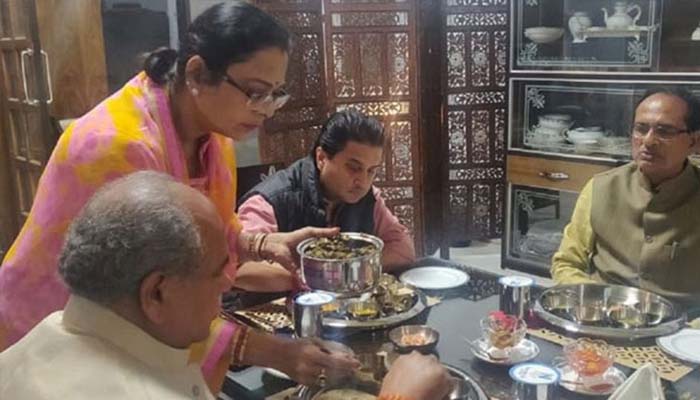 Jyotiraditya Scindia's Family dinner with Shivraj Chauhan: See in Photos
Bhopal: After being associated with Congress for 18 years, Jyotiraditya Scindia has joined Bharatiya Janta Party (BJP). He offered his resignation to Sonia Gandhi on the Holi Day.
After joining BJP, Scindia reached Bhopal for the first time on Thursday, where he was given a grand welcome. The party workers welcomed Scindia with flowers and garlands . Jyotiraditya Scindia also did a road show from Bhopal airport to BJP office.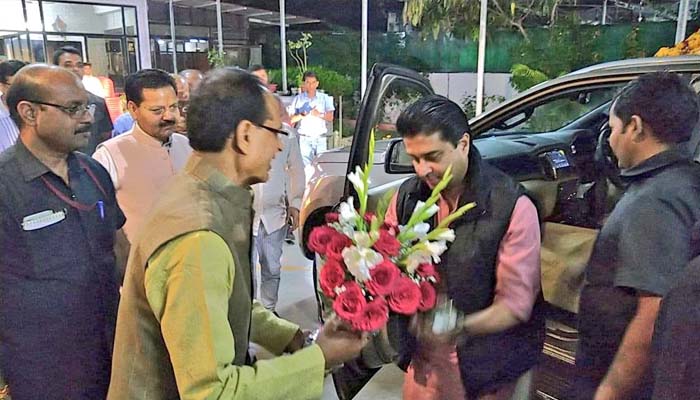 After reaching Bhopal, Scindia's Pictures from a dinner party is getting viral. As we can easily see Shivraj Chauhan and his wife in the photos.
Grand welcome of Scindia in Bhopal:
Jyotiraditya Scindia, who came to the house for dinner on Thursday, was welcomed by garland of flowers. Scindia also touched Shivraj Singh Chauhan's feet and took his blessings. Apart from Jyotiraditya Scindia, Union Minister Narendra Singh Tomar, Madhya Pradesh BJP President VD Sharma, Narottam Mishra, Yashodhara Raje Scindia were also present at the dinner at Shivraj Singh Chauhan's house.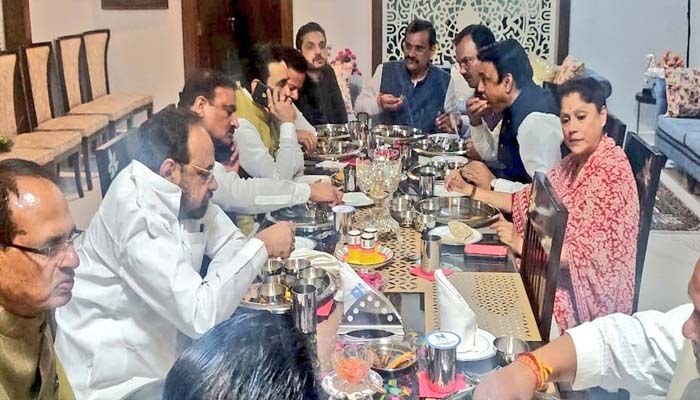 Shivraj's Wife prepared special dinner:
Former Madhya Pradesh CM Shivraj Singh Chauhan's wife prepared the special dinner for Jyotiraditya Scindia. She herself served the food on the dining table. As the photos are viral, it clearly shows that BJP welcomed Scindia with all hearts.
22 other MLAs resign with Scindia:
Let us tell you that after Jyotiraditya Scindia left Congress, there is a lot of problems in the politics of Madhya Pradesh. Scindia, who resigned from the Congress, is not the only one, but in addition to him 22 more MLAs have resigned from the party. At the same time, hundreds of leaders and activists have left the party.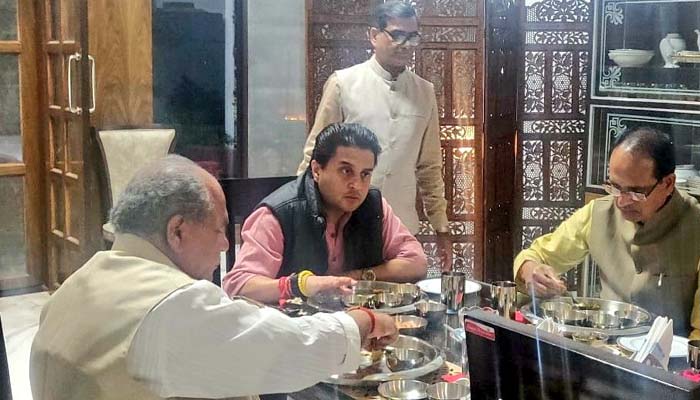 Rahul Has no Time: Scindia
In his statement Jyotiraditya Scindia said that he was trying to solve the problems for long. He tried to talk to Mr. Rahul Gandhi but he had no time. Scindia also added that he was not able to serve the countrymen under the Indian Nation Congress.
ALSO READ: Jyotiraditya Scindia's Royal Connection: Know his Net worth!
In reply to Scindia, Rahul Gandhi said that "He forgot his policies and was scared of his future in politics that is why Scindia left the party.
Stay tuned with the newstrack to get fastest updates. Click @englishnewstrack to follow us on Facebook and @newstrackmedia to follow on Twitter.
Keep yourself updated with latest news through Newstrack App. To download App from Google Playstore visit here - Newstrack App