Vijay Mallya's claim meeting Arun Jaitley creates political whirl
New Delhi: Former Kingfisher Airlines Chairman and fugitive liquor baron Vijay Mallya on Wednesday gave a controversial statement claiming that he had met the Finance Minister before leaving India.
When the 62-year-old was asked whether he was 'tipped-off' to leave the country in relation to the charges of fraud and money laundering against him, he said,"I left because I had a scheduled meeting in Geneva. I met the finance minister before I left, repeated my offer to settle with the banks. That is the truth."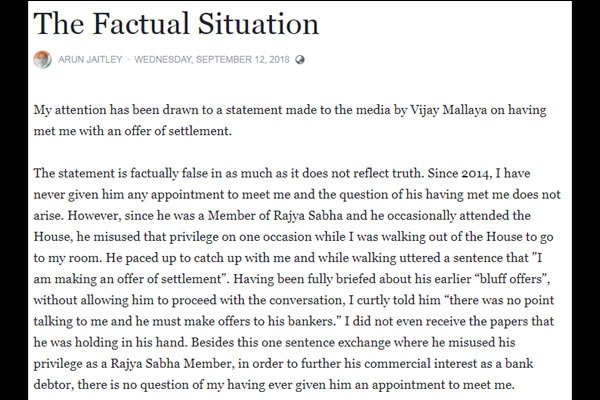 Arun Jaitley's clarification on his alleged meeting with Vijay Mallya
Arun Jaitley without further ado took to his social media account to clarify his image from this whole matter.
Jaitley responded by saying,"the statement is factually false in as much as it does not reflect truth."
He called Mallya's claims of meeting him false and that Mallya misused the privilege of being a Rajya Sabha member when he paced up to meet Arun while he was walking out of the house.
Mallya's Stance
After the hearing in the Westminster Magistrates' Court, Mallya was asked by media for details of his meeting with Jaitley. to which he said,"I'm afraid this is a controversy created by my friends in the media. I was standing here during lunch and I happened to answer a question on the circumstances under which I flew out. I said that I happened to meet Mr. Jaitley in Parliament, and I told him that I was leaving for London, and that I want to settle with the banks."
"I did not have any formal meetings scheduled with him. I met him often enough in Parliament, in the House and in central hall," Mallya said. "I don't understand what this controversy is all about."
In response to a question asked whether he had met any other BJP leaders, Mallya said,"Over a period of time, I have met many colleagues in Parliament and expressed to them my desire to settle with the banks. I don't believe I owe you any further details."
"I can confirm to you that nobody tipped me off. There was no need to run and the allegations are media-created allegations," he also said.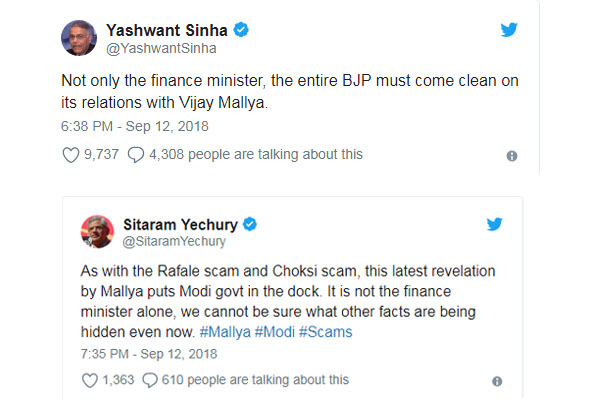 Yashwant Sinha and Yechury took a dig on BJP for Mallya's meeting with Finance Minister Arun Jaitley
This whole episode was turned into a political 'blame-game', when both sides seemed to cover-up the matter. Congress was quick to take a dig on the opposition and showed its concern over the matter.
Congress hit at BJP
Before Mallya had made any clarification, party spokesperson Abhishek Manu Singhvi said the country wants to know what transpired during the meetings between Mallya and Jaitley.
"The government should now explain how and why he was allowed to leave and what transpired at those meetings. The nation wants to know," he said, adding that the government was fully complicit in the 'flight' of people like Mallya and others from the country."
On Jaitley's clarification to Mallya's claims, Singhvi said: "Phrase used by Mallya today is that 'he met the finance minister'. But 'met the finance minister' doesn't suggest a passing, casual, walking meeting inside the House of Rajya Sabha. I think a more categorical and detailed response must be given. The question remains that how could he have left after everyone knew of debts and NPAs."
Congress leader Anand Sharma said: "Vijay Mallya has run away after looting money from banks. The government had this information. So when the finance minister gave statements in Parliament on the Vijay Mallya issue, he should have mentioned this meeting with Mallya. Only the finance minister can tell why he didn't tell (anyone) about it."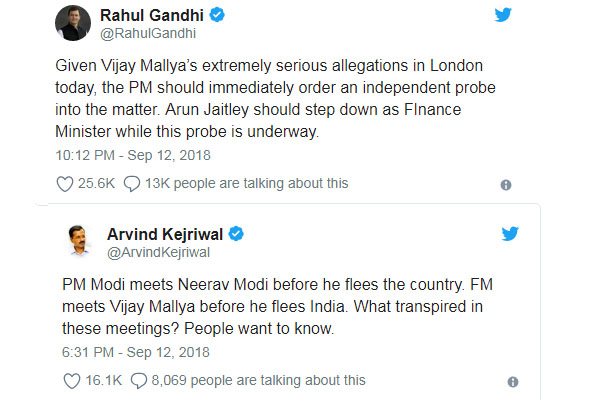 Rahul Gandhi and Arvind Kejriwal took a dig on BJP for Mallya's meeting with Finance Minister Arun Jaitley
Party chief Rahul Gandhi suggested that Prime Minister Narendra Modi should "immediately order an independent probe", given the "extremely serious allegations" Mallya has made in London. "Arun Jaitley should step down as finance minister while this probe is underway.