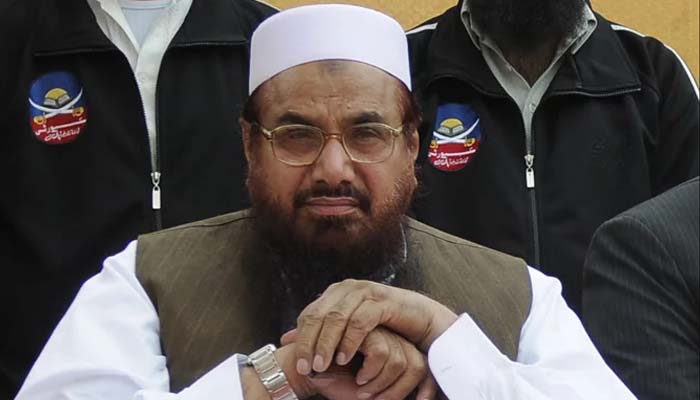 UN rejects Pakistan's plea to delist Hafiz Saeed as a global terrorist
New Delhi: Giving a major boost to India's campaign against terrorist activities, United Nation, on Wednesday, rejected a plea by Jamaat-ud-Dawa (JuD) chief and Mumbai terror attack mastermind,  Hafiz Saeed to delist him from the list of UN-sanctioned terrorists.
Saeed's appeal, at the UN was opposed by India, UK, US, France and Afghanistan, but was backed by Pakistan as per sources. The five countries shared details about Saeed's terror activities across 23 countries to the UN, including his role in the 26/11 attack in 2008, which killed 166 people.
Pakistan, meanwhile, sealed the Lahore headquarters of JuD and its charity wing Falah-i-Insaniat Foundation (FIF) as part of the ongoing crackdown against banned organisations. The government "has taken complete control of the banned JuD and FIF headquarters in Lahore and Muridkey", the Home Department of Pakistan's Punjab province said.
The Lashkar-e-Taiba chief has been on the UNSC 1267 sanctions committee list since 2008 and had appealed against the UN decision through Lahore-based law firm 'Mirza and Mirza' in 2017, while he was still under house arrest in Pakistan.
The UN's Independent Ombudsperson Daniel Kipfer Fasciati and his team, many times tried to reach him for interview  but were denied visas to Pakistan. Saeed's interview and cross-examination were therefore conducted over video conference.
As per sources, Saeed's appeal was based on two claims: (A) he was not associated with Lashkar-e-Taiba (LeT) and (B) Pakistan's courts had freed him. But the Ombudsperson concluded that Saeed was still "Amir" of JuD, that JeD and LeT are "congruent" and that "there is no reason to doubt the assumption".
It was also found that while Pakistani courts said Saeed was not a threat to the country, they did not state that he was not a threat outside, sources said.
The Ombudsperson informed Saeed's lawyer that he will "continue as a listed individual" as "there was sufficient information to provide a reasonable and credible basis" for the decision, sources said. The recommendation was endorsed by the UN's Sanctions Committee, they said.
Pakistan government, however, has claimed that it has taken control of 182 religious schools and detained more than 120 people in order to eradicate terrorism from its soil. According to Pak officials, the Punjab province government alone has seized control of 160 seminaries, 32 schools, two colleges, four hospitals, 178 ambulances and 153 dispensaries linked to banned organisations. Authorities also took control of 529 properties of banned outfits, mostly JuD and MeM, and arrested more than 100 activists.
Whereas, the Sindh government has taken over 56 facilities being run by the JuD and FIF in Karachi and other districts. Similar action was taken in Peshawar and Lower Dir districts of Khyber Pakhtunkhwa as well as Quetta and areas of Balochistan. Raids were conducted in Islamabad and Rawalpindi where more than a dozen holdings of proscribed organisations were sealed.
A senior official told media that agencies sealed a seminary of JeM and 46 properties of the JuD in Faisalabad, and arrested 22 suspected workers of banned outfits.
The snub comes at a time when Pakistan appears to have intensified its crackdown against UN-sanctioned terrorist groups after heightened tensions between India and Pakistan, where JeM claimed the responsibility of suicide bombing in Pulwama, killing 40 CRPF troopers. Later, to suppress the terror activities India had launched surgical strike from air, with IAF jets targeting training Jaish camps in Khyber Pakhtunkhwa and Pakistani jets crossing the LoC.
India has also been trying hard to enlist Jaish-e-Mohammed (JeM) chief Masood Azhar as a global terrorist at the UN Security Council.
Keep yourself updated with latest news through Newstrack App. To download App from Google Playstore visit here - Newstrack App