Tamil Nadu CM Jayalalithaa dies at 68, O Panneerselvam succeeds
Chennai: Day after suffering cardiac arrest, Tamil Nadu Chief Minister Jayalalithaa passed away at 11:30 pm here on Monday. Appolo hospital confirmed the same in a medical bulletin, triggering immense grief across the state.
She was hospitalised since last 74 days. Jayalaithaa's body will be kept at Rajaji Hall for paying last respects.
AIADMK leader O Panneerselvam is unanimously elected as the next Tamil Nadu Chief Minister.
All India Anna Dravida Munnetra Kazhagam (AIADMK) party said she was given a clean bill of health but had to be admitted following cardiac arrest.
Also read: An enigma called Jayalalithaa Jayaraman
Following the death of Tamil Nadu CM, three-day holiday has been declared for schools and colleges in the state. The seven-day state mourning has also been announced over the demise. December 6 is declared as public holiday under Negotiable Instrument Act as mark of respect to Amma.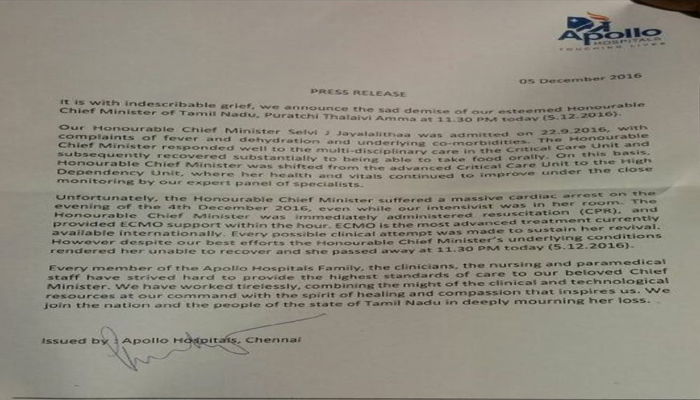 Prime Minister Narendra Modi condoled the passing away of Jayalalithaa.
https://twitter.com/narendramodi/status/805849401574834176
https://twitter.com/narendramodi/status/805849612992925696
https://twitter.com/narendramodi/status/805849770543616001
https://twitter.com/narendramodi/status/805849888785305601
https://twitter.com/narendramodi/status/805850049770987520
The gathering of her followers increased around the hospital since the confirmation of Amma's death spread. She had suffered from hypertension, diabetes and cellulitis. Jayalalithaa was on a ventilator support during her final days before her demise.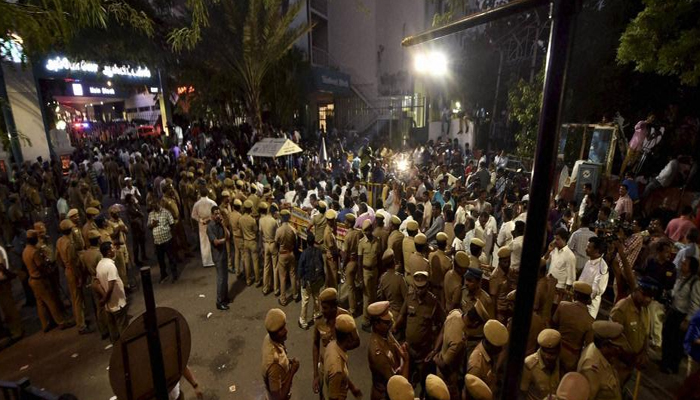 "Why did God take back Amma? She was in a good condition till 4 p.m. on Sunday. We all were confident that Amma will come out of hospital," AIADMK spokesperson C.R. Saraswathi said.
"All our prayers have gone waste. It is not the age for her to die," she said, adding "Amma will continue to guide the party", she added.
"Every possible clinical attempt was made to sustain her revival. However, despite our best efforts the Chief Minister's underlying conditions rendered her unable to recover and she passed away," said Apollo hospital.
Jaylalithaa's cremation would be held at 4:30 pm on Tuesday.
Also read: Jayalalithaa's supporter dies after knowing about her critical condition