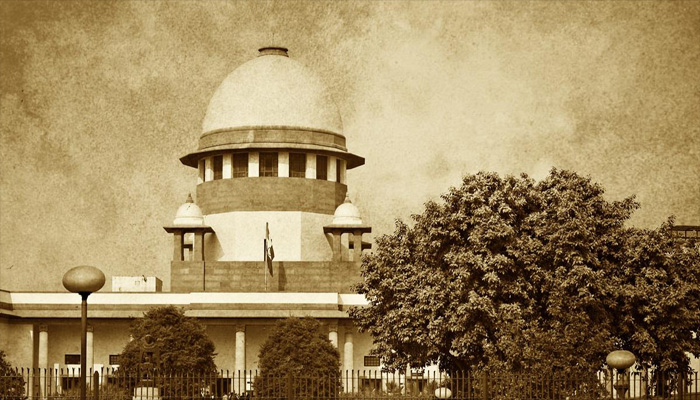 Supreme Court
New Delhi: India's apex court on Thursday rejected all the 18 review petitions filed after its historic verdict on decade old Ram Janambhoomi dispute, on November 9.
So far, eighteen review petitions were filed in the Supreme court, of which eight were filed by those who were parties in the Ayodhya land title dispute case and rest by third parties who were not the part of the decades-old legal battle.
ALSO READ: Ayodhya verdict review: Muslim party says Babri be rebuilt for fair justice
The top court, which took these review pleas for consideration in-chamber, rejected them after finding no merit.
A five-judge bench headed by Chief Justice S A Bobde and comprising Justices D Y Chandrachud, Ashok Bhushan, S A Nazeer and Sanjeev Khanna considered the review pleas of only those who were parties to the four lawsuits filed initially in the vexatious dispute.
Among the nine "third parties" were 40 rights activists who had jointly moved the top court seeking review of its verdict.
With the rejection of these review petitions, the consequential request of parties for an open court hearing on these pleas also get dismissed.
A 5-judge bench, headed by the then Chief Justice Ranjan Gogoi, had in a unanimous verdict on November 9 decreed the entire 2.77 acre disputed land in favour of deity 'Ram Lalla' and also directed the Centre to allot a 5-acre plot to Sunni Waqf Board for building a mosque in Ayodhya.
On December 2, the first plea seeking review in the case was filed by Maulana Syed Ashhad Rashidi, legal heir of original litigant M Siddiq and also the  president of the Jamiat Ulama-e-Hind.
Later, on December 6, six petitions were again filed in the apex court seeking review of its judgement.
Two more review petitions were filed, on December 9, one by the Akhil Bharat Hindu Mahasabha and the other by 40 persons, including rights activists who have jointly moved the supreme court seeking review of its verdict.
Maulana Syed Ashhad Rashidi sought review of the verdict on 14 counts and said that "complete justice" could only be done by directing reconstruction of Babri Masjid.
He also sought an interim stay on operation of the verdict in which it had directed the Centre that a trust be formed within three months for construction of the temple at the site.
Akhil Bharat Hindu Mahasabha, which has sought a limited review of the November 9 verdict, moved the court against the direction to allot a five-acre plot to Sunni Waqf Board for building a mosque in Ayodhya.
It also sought deletion of findings declaring the disputed structure as a Mosque.
The verdict given by Supreme Court, however, was later criticized by All the Muslim parties, who  alleged that emphasis on prayer and belief in the judgement shows it was entirely based on Hindu faith and condoned illegalities. Muslim parties alleged that the judgement condones serious illegalities of destruction, criminal trespass and violation of rule of law including eventual destruction of the mosque.
ALSO READ: 40-day hearing in Ayodhya case was 2nd longest in SC's history
Keep yourself updated with latest news through Newstrack App. To download App from Google Playstore visit here - Newstrack App