RSS replaces its trademark khaki shorts with full pants
Suresh Bhayyaji Joshi, general secretary of the RSS, said after the meeting that the sangh has decided to replace khaki half pants with brown pants. " We are not rigid and take decisions according to the time," he said. Satish Modh, Konkan Prant Sahasangchalak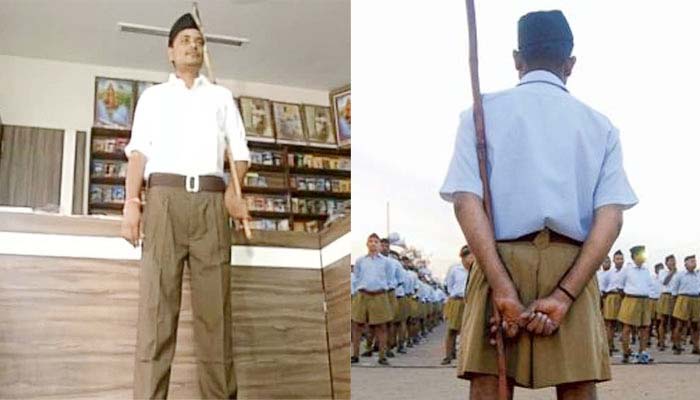 Nagpur: In a paradigm shift from year old tradition, Rashtriya Swayamsevak Sangh (RSS) has decided to modernise their cadres by replacing their khaki shorts Ganavsesh with full pants. The change in the dresses of the cadre will be effective from the auspicious occasion of Dussehra on October 11.
The decision regarding this was taken at the three-day annual meeting of Akhil Bhartiya Pratinidhi Sabha, the highest decision-making body of RSS, held in Nagpur.
Suresh Bhayyaji Joshi, general secretary of the RSS, said after the meeting that the sangh has decided to replace khaki half pants with brown pants. " We are not rigid and take decisions according to the time," he said.
Satish Modh, Konkan Prant Sahasangchalak of the RSS said that while some people favoured replacing the shorts others went on opposing it. "Those pitching for change said the organisation must change with the times and take into consideration the comfort level of the youth. Those opposing the change said the shorts were part of the RSS identity; it's branding," he stated.
The Khaki shorts have been the trademark dress for the Rashtriya Swayamsevak Sangh (RSS) cadres for 91 years. The move was also discussed last year at their Akhil Bharatiya Karyakarini Mandal at Ranchi but was not done but this time the majority agreed to the change.
Joshi described it as a major change and said, "Pants are a regular feature in today's social life, so we took our decision accordingly."
Responding to a question regarding the colour of the pants, the general secretary stated, "We decided on brown colour though there is no specific reason for it but is commonly available and looks good."
Joshi assured that the chnge in uniform not have any adverse impact on the identification of sangh members. It will be a routine thing in next 4-6 months, he said.
The leaders who opposed the decision, however, argued that losing the shorts will be like losing its identity
Not the first change:
It may be mentioned that this is not the first change in the uniforms of RSS membera.

Before second World War, RSS used to wear an all khaki uniform.

Till 1940, the uniform of RSS was khaki shirt and shorts before white shirts were introduced.

Long boots were also a part of RSS dress that were replaced by leather shoes in 1973 and later rexine shoes were allowed. Arnima Dwivedi
A journalist, presently working as a sub-editor with newstrack.com. I love exploring new genres of humans and humanity.