Rs 500, Rs 1000 notes deemed illegal from midnight: PM Modi
New Delhi: The Government of India has demonetized the present series Rs 500 and Rs 1000 currency notes with effect from midnight today. The announcement was made by Prime Minister Narendra Modi during his sudden address to the nation on Tuesday.
Old Rs. 500 and Rs 1000 notes can be deposited in any bank or post office from November 10 to December 30.
"For 72 hrs, until Nov 11 midnight, we have made special arrangements. All govt hospitals will accept old 500 & 1000 notes," said PM Modi.
Major Announcements by PM Modi:
No change in any other form of currency exchange be it cheque, DD, payment via credit or debit cards etc.

On November 9 and in some places on November 10, ATMs will not work.

All banks in India to be closed on Wednesday.

ATMS will limit money to Rs. 2,000 a day initially.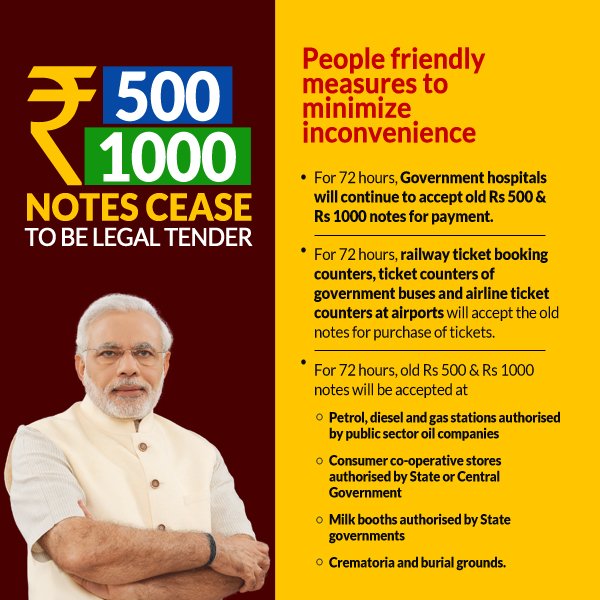 What else PM Modi said?
This government is and will stay committed to the poor.

With the support of 1.25 billion people, India has emerged as a shining star in the global economy.

India has registered itself as a bright spot, not that this is a claim made by us, but by IMF & World Bank.

Black money and corruption has taken roots in the country, these are the biggest obstacles in eradicating poverty.

Our motto has been 'Sabka Saath, Sabka Vikas'. We will continue to fight poverty.

Our enemies from across the border run their business with counterfeit notes and it has been going on for years.

We want to take this fight against corruption even ahead. Wish to thank all.

The way you cleaned your home on Diwali, lets join hands in cleaning corruption, black money & fake currency from country.
https://www.youtube.com/watch?v=zmwQWe-jA_4