Meet Tanuj Patel: True example of generosity, tolerance and lovable personality
Roots foundation runs various projects and try to help people. Tanuj feels happy after helping the people. He feels that helping others is his right.
Tanuj Patel is an example of generosity, tolerance and lovable personality. He is always ready to help the needy people. On asking from where did he got the inspiration to always stand for the needy people he said that he went to foreign in 2006 and there he faced many difficulties in establishing his own business. He felt that the humans are not helping each other and no one is generously helping anyone.
From this experience he decided to help everyone in need and thus started to help people those who are in need. "I am satisfied with my life and all I want to do in my life now is give as much as I can".
Roots Foundation
Despite of living out of india, because of his love for the nation he started an NGO named Roots Foundation in 2016. The foundation of the NGO is aimed only at helping people. Roots foundation has crossed the heights of success. Roots foundation runs various projects and try to help people. Tanuj feels happy after helping the people. He feels that helping others is his right.
By doing such work of helping others, he keeps his love for the nation alive despite of him being on foreign soil. For this he established Roots Foundation in Anand city of gujarat.
To fight the key issues like poverty, illiteracy, hunger, unemployment is the key aim of the foundation. Under this, AAHAR, Beat Plastic, Tree Plantation drive, clothes donation drive, Save girl child development campaigns were started. Alongside this a Hospital named T Square was established to continue to help people.
Root Foundation has started many projects:
Skill Development (Kushalta ni chavi)
Tanuj Patel loves children. With this project, free education is given to children every week and also skill development development classes. In those classes, dance, singing, drama, general knowledge etc and such education is imparted to the children so that they get the opportunity in those fields. For the children to become the star of the society, tanuj patel provide these education for free so that their future is very bright.
Clothes Donation Drive:
In this campaign, the volunteers go door to door and collect the clothes from the house and reach out to those people who needs the clothes and give it to them.
Plastic Pollution drive:
In this the Roots team goes to different areas of the cities and collect the plastic for proper disposal and makes people understand the importance of proper plastic disposal.
Save Girl Child:
Under this campaign with the collaboration of Roots Foundation, they have establised a T square hospital to help get free health check up for the different people of the society and the people of the rural areas and village. On birth of a girl child, the hospital gives lots of help to the parents who are not well versed and this ways helps the different sections of the society. The girls born in T Square are provided with free health care for their whole life. Also provided with educational scholarship.
AAHAR:
Under this campaign 250 to 300 people are provided with food daily and they have the target of providing food to 2lakh people in the next 2 years.
Tree Plantation drive:
To stop the pollution and for the protection of the environment, Tanuj and his Roots team does tree plantation in various places of the city of anand.
Sanskruti
Apart from this, Tanuj is also Actively participating in an NGO named Sanskruti in Mumbai. These foundation helps people with free of cost cataract surgery.
Corona period: A golden period
For tanuj, Corona period became a golden period. During lockdown, Tanuj helped lot of people and earned their blessings. During lockdown, more than 5,00,000 people were provided with food. 25,000 plus people with vegetables, and more than 35,000 kg fruit was distributed and 3500 kits of groceries.
More than 17,000 migrants were safely sent home. Distribution of mask and sanitizers in huge amount helped people fight against coronavirus. Senior citizens were given with homeopathic medicine alongside with treatment of covid 19 patients in t square hospital.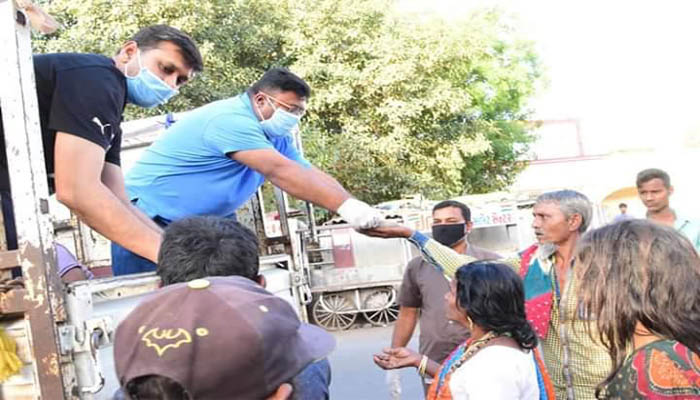 With all such helps, Tanuj always finds his place at top in helping people. He feels that everyone who is in foreign can help his native land in the times of need. This way. he feels that he repays the debt of the land he comes from.
ALSO READ: Chilly Winters: Cold wave conditions to prevail in Delhi, orange alert in UP
Having such enormous and generous heart, tanuj always says that service to community and society is the best form of service in this times. He is always working in this direction. And he will always help the society and country. He is inspired from his daughter. She everyday gives inspiration to her dad to help people by doing something new. he does everything to help and not for money.
ALSO READ: Meet Multi-talented 'Balram Bharwad', who aspires to be at the peak of success
For such a wonderful service to society, Tanuj Patel has earned the title of Hero during the corona times.
ALSO READ: Here's list of immunity-building foods that tops the health charts in 2020
Stay tuned with the newstrack to get fastest updates. Click @englishnewstrack to follow us on Facebook and @newstrackmedia to follow on Twitter.