Radhe Maa seen dancing with Delhi Police cops; two suspended
New Delhi: An embarrassed Delhi Police department on Thursday suspended two cops after a video showing self-styled godwoman Radhe Maa dancing with some police officials in uniform and sitting on the chair of a SHO in a police station surfaced over the internet.
Confirming the news of suspension, Deputy Commissioner of Police Nupur Prasad said, Station House Officer (SHO) Vivek Vihar police station, Sanjay Sharma, and Braj Bhushan, Assistant Sub-Inspector (ASI) of GTB Enclave police station, have been suspended.
Defining the reason behind the move, Prasad said that a photograph of Radhe Maa, reportedly clicked on September 28, has been taken into cognizance in which she is sitting on the chair of Sanjay Sharma and the cop is standing next to her with folded hands.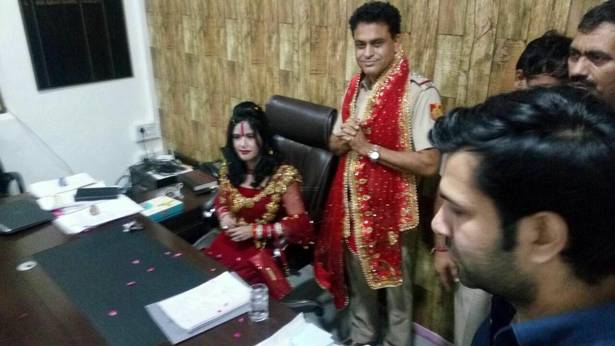 In another video clip, Bhushan is seen, along with four-five other Delhi Police officials in uniform, singing and dancing with the controversial godwoman.
"It was found that it is a matter of professional misconduct. Thus the SHO and ASI are suspended with immediate effect. Further action will be taken after a detailed inquiry," Prasad said.
The video was first seen on Facebook on October 3 when it was posted on the official page of Radhe Maa, 'Param Shradhey Shri Radhe Maa', which has over 5 lakh followers.
Also Read: Newstrack impact: UN's tweets to rapist Ram Rahim were deliberate, not hacked
Earlier, Delhi Police had claimed that it was probing the matter and the SHO was told to report to the district Police Lines till the inquiry gets over.
A probe had also been ordered into the video clip of police officers singing and dancing on the tunes of the godwoman.
Describing the incidents as 'unprofessional conduct', Delhi police chief spokesperson Dependra Pathak said Shahdara's Additional Deputy Commissioner of Police was investigating the matters.
As per a close aide of Radhe Maa, she was unaware that she had sit on the chair of SHO and had got up after a cop asked her to vacate it.