ASEAN Summit | PM Modi visits Mahaveer foundation in Philippines
Manila: Prime Minister Narendra Modi on Monday visited the Mahaveer Philippine Foundation here that has helped rehabilitate thousands of disabled people in the country with the famed Jaipur Foot.
External Affairs Ministry spokesperson Raveesh Kumar said that Modi interacted with nine-year old Carlo Miguel Silvano from Bulacan province at Mahaveer Philippine Foundation in Manila.
"He (Carlo) is one of the thousands in Philippines fitted with the Indian-made 'Jaipur Foot' at this Foundation," Kumar tweeted.
ALSO READ: Prime Minister Narendra Modi interacts with world leaders in Philippines
The Mahaveer Philippine Foundation is an associate centre of the Jaipur-based Bhagwan Mahaveer Viklang Sahayat Samiti (BMVSS) of the famed Jaipur Foot artificial limb.
BMVSS is the world's largest organisation to rehabilitate over 1.55 million lives with the artificial limb.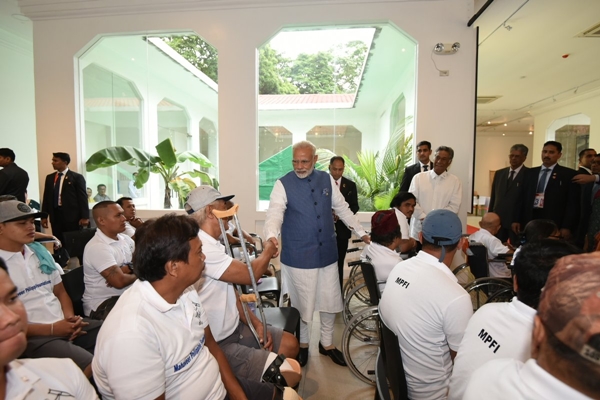 ALSO READ: PM Modi attends opening ceremony of 31st Asean Summit
The Foundation in Philippines was set up by then Indian-origin Mayor of Manila Ramon Bagotsing and Executive President of BMVSS V.R. Mehta.
This year alone, 757 amputees in the Philippines have benefitted from the Foundation's programme.
with IANS inputs...