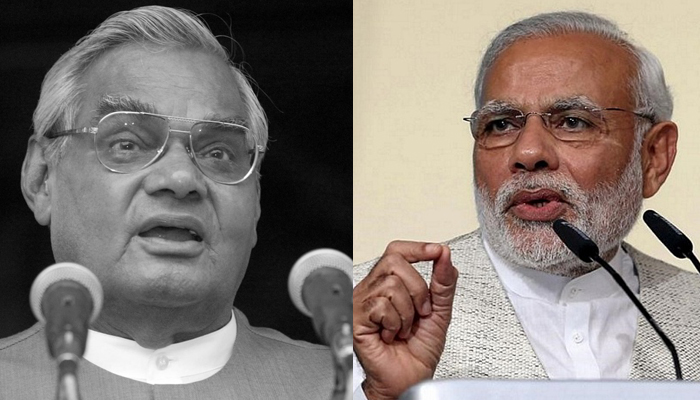 PM Modi shares Atal Bihari Vajpayee's poem 'Aao diya jalaye'
NEW DELHI: PM Narendra Modi had recently urged all the countrymen that on 5th April i.e. Sunday, everyone to give their 9 minutes at 9 o'clock at night at their door or balcony with a candle, torch or Mobile flash light. He also urged to keep the lights of the house closed during this time.
Today, PM Narendra Modi tweets an old video of former Prime Minister Late Atal Bihar Vajpayee with a caption 'Aao diya jalayein'.
आओ दीया जलाएं। pic.twitter.com/6sc5bplbVy

— Narendra Modi (@narendramodi) April 4, 2020
ALSO READ:Switching off lights could lead to grid collapse: Nitin Raut
This video of Late Atal Bihari Vajpayee is about lighting a lamp. In this video, Vajpayee Ji recited a epic poem – 'Aao fir se Diyaa Jalaye'.  PM Narendra Modi is again reminding people through this video that the Diya has to be lit on 5th April at 9 pm on Sunday night.
PM Modi's Video message:
In his video message PM Modi said that "My dear countrymen, the nationwide lockdown against the Corona global epidemic is completing 9 days today. During this period, the way you all have introduced both discipline and service is unprecedented.
Whether it is Janata curfew, ringing bells, clapping hands or clanging plates; they have all made the nation realize its collective strength in this tough time.
Prime Minister Narendra Modi urged the people of nation, "This Sunday, on the 5th of April, we must all together, challenge the darkness spread by the corona crisis, introducing it to the power of light. On this 5th of April, we must awaken the superpower of 130 crore Indians. We must take the super resolve of 130 crore Indians to even greater heights."
ALSO READ: COVID-19: Priyanka calls for large scale testing, says govt must act
Stay tuned with the newstrack to get fastest updates. Click @englishnewstrack to follow us on Facebook and @newstrackmedia to follow on Twitter.