Jayalalithaa buried with full state honours at Marina Beach
Chennai: Draped in tri-colour in a Sandalwood Castle, the mortal remains of former Tamil Nadu Chief Minister J Jayalalithaa, fondly referred as Amma, reached at Marina Beach where the last rites ceremony took place. She was buried with full state honoures near her mentor MG Ramachandran.
Lakhs of people from all across Tamil Nadu had gathered initially at the Rajaji Hall and now at the MGR memorial at Marina Beach to pay homage to their revered Amma.
Her body, after the Appollo Hospital declared her dead at 11.30 pm on Monday, was taken to her residence at Poes Garden in an ambulance.
LIVE EVENTS:
Last rites ceremony of Jayalalithaa begins at MGR Memorial, Marina Beach.

Mortal remains of Jayalalithaa brought to MGR memorial (Marina Beach).

Jayalalithaa's funeral procession will travel about 3 kilometers.

Mortal remains of Jayalalithaa being taken from Rajaji Hall to Marina Beach for final rites.

President Pranab Mukherjee pays tribute to Jayalalithaa at Rajaji Hall in Chennai.

Congress Vice President Rahul Gandhi reaches Chennai to pay his last respects to the former TN Chief Minister.

West Bengal CM Mamata Banerjee pays tributes to Jayalalithaa from Kolkata.

Former Indian Cricketer Krishnamachari Srikkanth visits Rajaji Hall (Chennai) to pay floral tributes to Jayalalithaa.

Narendra Modi pays tribute to the late TN Chief Minister at Rajaji Hall in Chennai.

PM Modi's convoy reaches Rajaji Hall in Chennai.

Shatrughan Sinha mourns the death of Jayalalithaa. He said, "She was an iron lady. An amazing woman & a great leader. Connect she had with people was unprecedented.

Supporters shave their heads in mourning after the demise of Amma.

Union territory Puducherry also announced a holiday for educational institutions and government offices on December 7 to pay respect to Jayalalithaa.

The Tamil Nadu state government announced a seven-day state mourning from Tuesday in view of the demise of TN Chief Minister J Jayalalithaa. The government also declared a three-day holiday for school and colleges in the state.

PM Narendra Modi arrives in Chennai, will pay floral tributes to Jayalalithaa.

Jayalalithaa will be cremated next to the memorial of Dr MGR, her mentor, off Marina beach.

The cremation ceremony will take place at 4.30 pm on Tuesday evening and will see in attendance politicians from across parties .

Union Minister for Information and Broadcasting M. Venkaiah Naidu, Tamil Nadu Chief Minister O. Panneerselvam, state Congress party President S. Thirunavukarasar, movie star Prabhu, Bharatiya Janata Party leader H. Raja and others paid homage to Amma.

Prime Minister Narendra Modi on Tuesday boarded the flight for Chennai to pay his tributes to the late Tamil Nadu Chief Minister.

President Pranab Mukherjee condoled the sad demise of Jayalalithaa. He said, "one of India's most charismatic and popular leaders, Ms. Jayalalithaa was a visionary and able administrator. Her life was dedicated to the socio-economic transformation of Tamil Nadu and its people."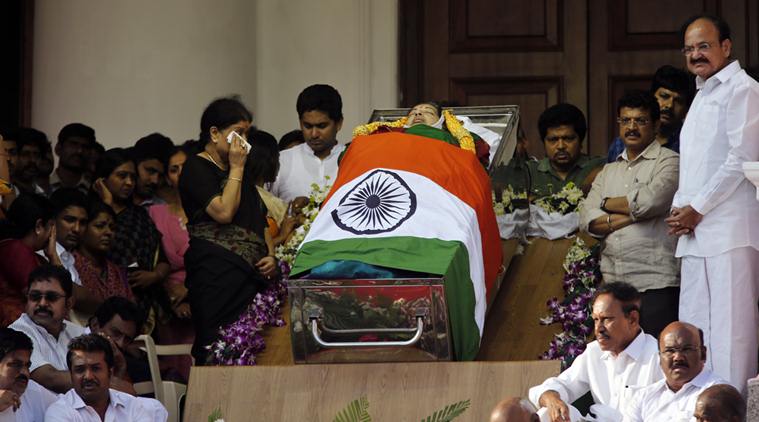 Photo Courtesy: AP