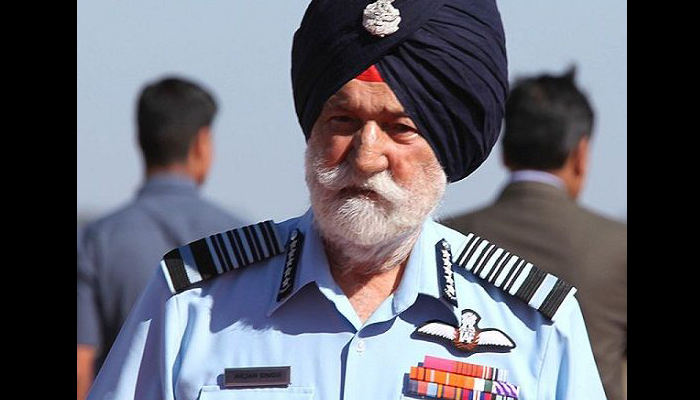 On 100th birth anniversary of Arjan Singh, IAF organises Half Marathon
New Delhi: Remembering the first and only "Five Star" rank officer of Indian Air Force Arjan Singh on his 100th Birth Anniversary, a Half Marathon was organised at 100 Air Force Stations across the nation on Sunday.
ALSO READ: SDMC conducts demolition drive in Nizamuddin area for decongestion
As part of centenary anniversary celebrations, more than ten thousand air warriors completed 2.1 Lac Kilometres at 100 Air Force Stations. The Delhi leg of the Half Marathon was held on Sunday at Jawahar Lal Nehru Stadium for the air warriors located in Delhi & NCR. More than 800 air warriors took part in the event.
Addressing the participants at Jawahar Lal Nehru stadium, BS Dhanoa, Chief of the Air Staff said, "The Indian Air Force has accomplished a milestone in sporting activity by the simultaneous conduct of half marathon across the country. Late Marshal of the Indian Air Force Arjan Singh DFC was an accomplished sportsman.
ALSO READ: 'TikTok Ban Will Hurt Free Speech': App's Owner to Supreme Court
The conduct of this half marathon is a befitting tribute to the legend and an admirable way of expression of our gratitude towards his contribution to the nation. The event highlights our commitment to facilitate sports and to encourage air warriors to set high standards of fitness".
He congratulated all the Air Warriors who participated in the Half Marathon in Air Force Stations pan India. He also congratulated the award winners and said that he is looking forward to Marshal of the Indian Air Force Centenary Hockey tournament that is going to be held in Chandigarh as a befitting tribute to the late Marshal of Indian Arjan Singh.
ALSO READ: ED: Rs 4,700 crore worth assets attached belonging to Nirav Modi
Late Marshal of the Indian Air Force Arjan Singh's passion for the game of Hockey was unparalleled. The IAF legend had always been an inspiration to air warriors leading from the front not only in the war front but also in the field of sports.